4th Thursday January to October
3rd Thursday November and December 
at the Legend Sports Bar and Grill at the Diablo Creek Golf Course
4050 Port Chicago Highway in Concord.
Meeting starts at 8:30 am.
AREA 16 FISHING NEWS FOR June 2019 
All SIR members and guests are welcome, and indeed encouraged, to participate in fishing trips as well as attend the monthly meetings.  Next meeting will be Thursday, June 28th in the Legend Sports Bar and Grill at the Diablo Creek Golf Course at 4050 Port Chicago Highway in Concord.  Meeting starts at 8:30am, come early. 
Contacts are Harry Sherinian 510-207-7067 and Carl Moyer 925-685-5243.
10 of us went to Almanor led by Chuck Vanoncini, and caught about 50 fish, all nice fat trout. This is 3 day trip has become a best seller.  The resort provides food, lodging, and guides at a very reasonable price.  Closer to home, 23 of us enjoyed Carl Moyer's backyard spring fish fry.  Carl, Rich Fiscina, Ron Lew, Paul Dubow, Bob Feiber, Gordon Linebaugh, Ron Lew, and Ken Bellinder all got halibut in the bay.  It has been a good month for halibut there.  Larry Kaye, Carl Moyer, Brion Beetz, and Phil Scimonelli caught delicious trout from San Pablo Reservoir.  Mike Corker and Tom Kostik enjoyed striper and black bass fishing in the delta.  Ernie Wong and Ken Konzak caught cutthroat trout fly fishing on their ladders at Pyramid Lake in Nevada.  Bob Fieber and friend caught striped bass from the Feather River.  Carl Moyer and Stan Wong got rockfish and ling cod from the ocean.  Salmon season for us was closed from May 1 to 17, but we have great expectations for an incredible year.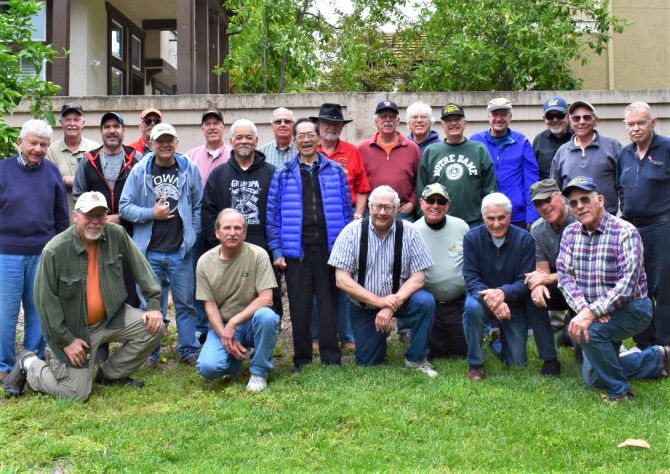 Carl Moyer's Annual Backyard Fish Fry-2019
SIR Carl Moyer caught these big 8 and 7 lb trout at San Pablo Reservoir
Stan Wong holds this beautiful string of trout caught at San Pablo Reservoir with Carl Moyer.
Phil Scimonelli and Brion Beetz caught these trout fishing with Carl Moyer
Thom Watkins is happy with the beautiful 5 lb rainbow trout he caught. 
Ron Lew, Brion Beetz, Stan Wong, and Bob Stein
had a productive rock cod/crab combo trip.
Rich Fiscina caught this big sturgeon fishing from Martinez.
Phil Scimonelli is proud of his 5 lb rainbow trout.
 Carl Moyers Annual Fish Fry 2018
The SIR fishing group chartered this boat and caught these fine fish
Chuck Vanoncini caught this nice rainbow on the upper Sacramento River
Karl Droese, Ken Konzak, Lee Clark, Dick Thomson in back.  Paul Dubow and Carl Moyer in front.  All are happy with these fine salmon on a SIR charter.
Stan Wong, Joe Miscione, and Karl Droese, with Kokanee from Stampede
Pete Gates, and Paul Dubow got these kokanee salmon from Lake Pardee.
30 SIRs ate their fill at Carl Moyers spring backyard fish fry. 2018
Seven happy SIRs caught these fine fish on a guided trip to Lake Don Pedro.
Carl Moyer with Salmon fishing from Half Moon Bay 2017
Trout caught at Lake Alminor by SIR fishermen, 2017
Thom Watkins caught this fine trout at San Pablo Reservoir
5-2017
Raleigh Davis got these huge rock fish in Alaska.
5-2017

New-Hogan-170510–Hal-Tatro-Tom-Boltz-PJD-Pete-Gates-Brad-Hatcher-Dick-Thomson-Jack-Waddell
5-2017

Carl Moyer, Terry Miller, and Bob Stein caught this beautiful limit of trout at San Pablo Reservoir.   5-2017

Alex Go caught this big crappie and many more at Clear Lake   5-2017
Carl Moyer got these nice trout from San Pablo Reservoir.

Gordon Linebaugh and Terry Hatcher caught these trout and a catfish fishing with Carl Moyer.
Carl Moyer's Annual Backyard Fish Fry – 2018
 Carl Moyer's Fish Fry 2017
This fine group of SIRs enjoyed a feast at Carl Moyer's fall fish fry. 2016

Happy and full fishermen after Carl Moyer's spring back yard fish fry. 2015  
Fishermen enjoyed Carl Moyer's backyard fall fish fry- 2014
05/17/2019 dda