AREA 16 FISHING NEWS 
4th Thursday, January thru October
3rd Thursday for November and December 
Next meeting will be at The Legends restaurant
at the Diablo Creek Golf Course
on Port Chicago Highway and Highway 4

November 16th
               The meeting starts at 8:30 am, come early. 
 
All SIR members and guests are welcome and indeed encouraged, to participate in fishing trips as well as attend the monthly meetings.  
          Contacts are Bob Lively 925-383-5193 and
Carl Moyer 925-685-5243.  
December 2023 update
Ocean fishing started November 4th, but only Pedro Contreras, Rich Fiscina, Brion Beetz, and Ron Lew have harvested the tasty crustaceans so far. 21 of us enjoyed Carl Moyer's fall fish fry in his backyard.  Many of us caught stripers in the bay and delta.  Bob Lucido, Brion Beetz, Carl Moyer, and Stan Wong all got trout at Shadow Cliffs Reservoir.  Bob Lively tried for trout at San Pablo Reservoir but only caught a catfish there. Carl Moyer caught sandabs on the ocean blue.  Many fishing adventures have been canceled due to wind and weather this year, more than normal.
Well, we been scuppered. Not only is salmon closed, but nearshore rockfish, a staple this time of year has also been closed by our Fish and Game Commission. Now we must go out for 3 hours to get deep enough for rockfish, and the ocean has been turbid and windy from incoming storms.  OH! WOE IS US!!!  Paul Dubow traveled all the way to Wisconsin to fish for walleye pike and bass.  Stan Wong caught some stripers in the delta.  And Nick Jabuka and his grandchildren had a blast catching and returning little stripers at the Antioch pier.  Carl Moyer caught sand dabs from the ocean, and catfish from San Pablo Reservoir. Our crab season, usually open in November, may be delayed because of the presence of whales.  The price of fishing tackle is near rock bottom.
Bob Lively caught this guitar fish in the bay. He played it for a while before landing it.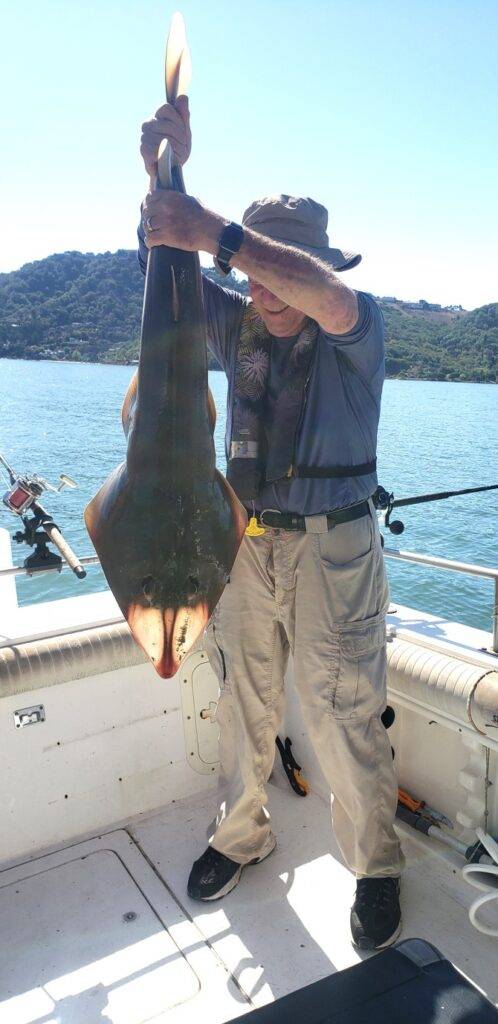 Carl Moyer, Phil Scimonelli, Lee Clark, Bob Stein, Dave Havlik, and Brion Beets were proud of this salmon limit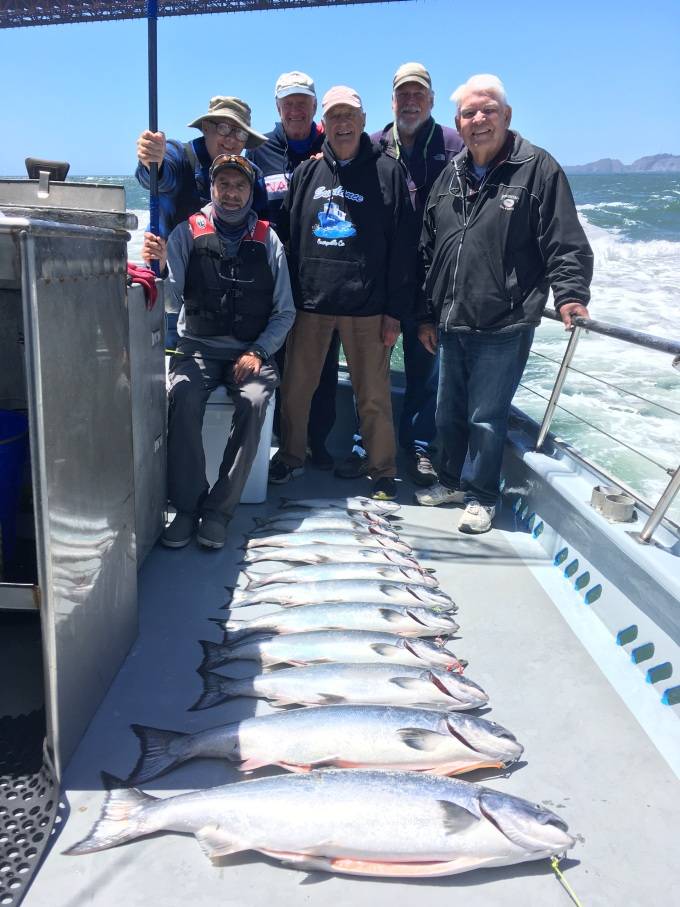 Another successful SIR fishing group excursion.. Halibut from the bay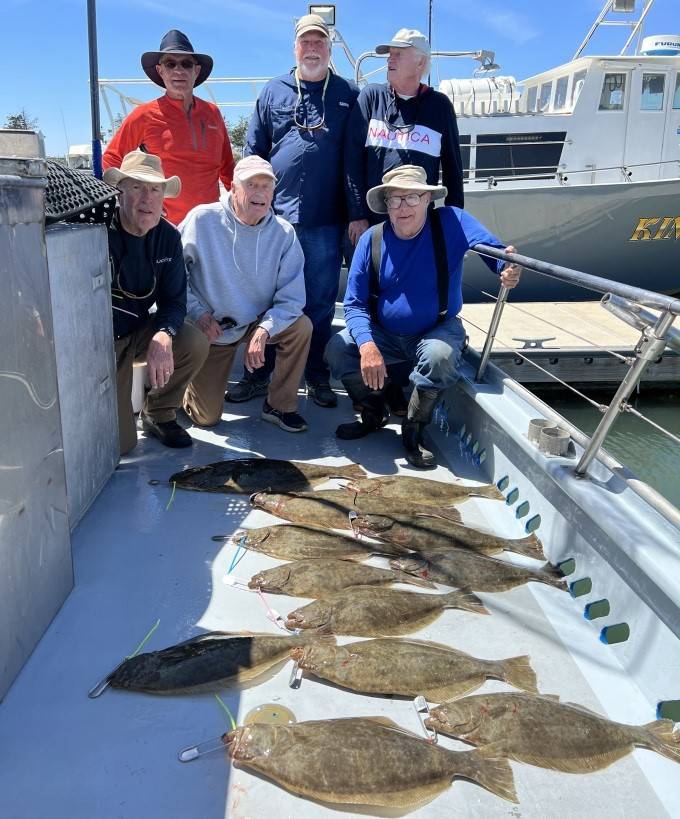 SIR Fizsh Fry 2022 at Carl Moters home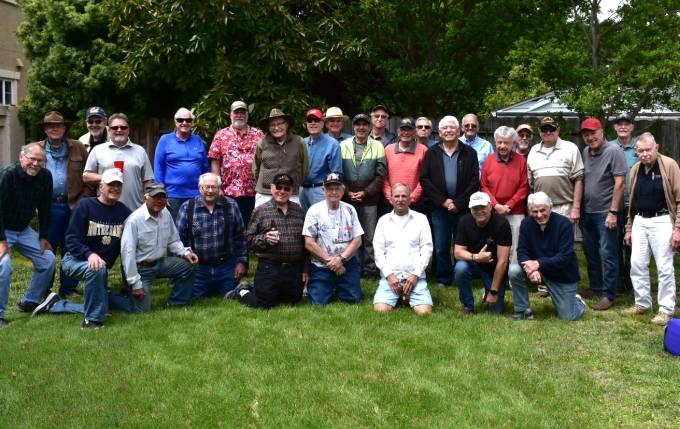 Carl Moyers Annual Fish Fry, 2022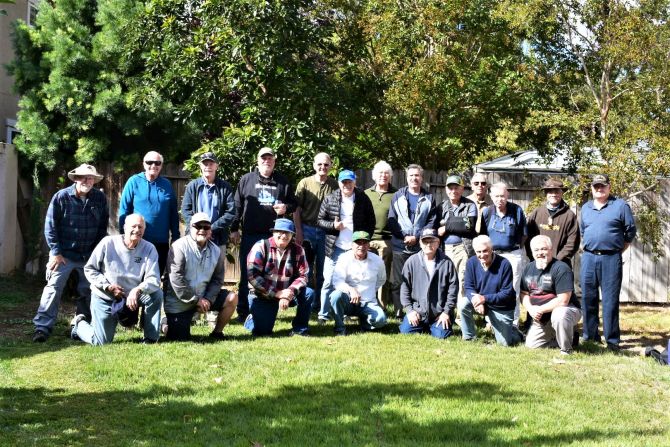 Carl Moyers Annual Fish Fry 2021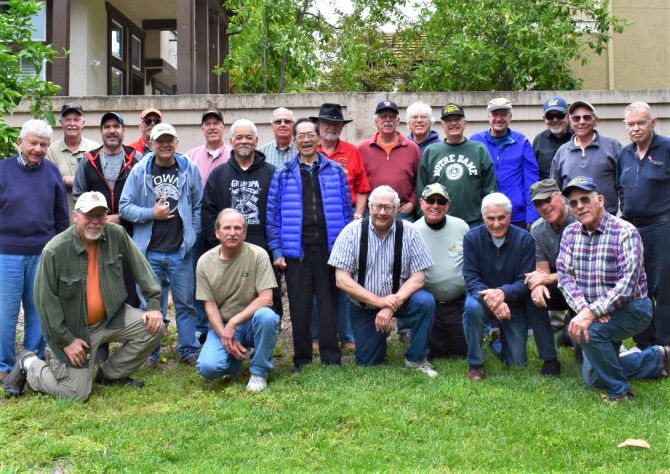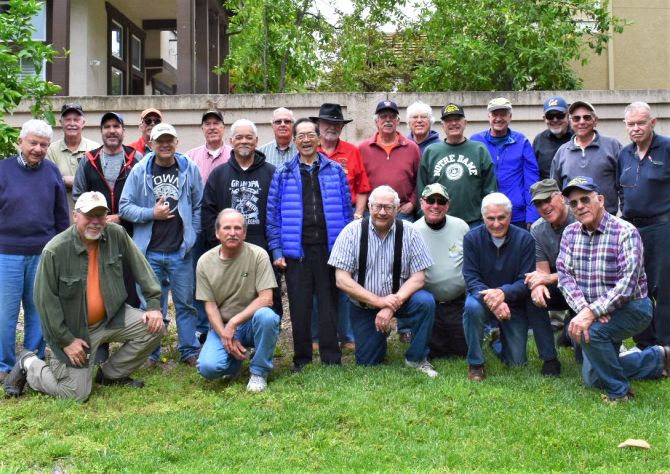 Carl Moyer's Annual Backyard Fish Fry-2019
 
  Last updated on 11/1165/2023 by dda.