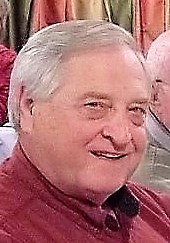 Glenn Gilman, Chairman 
 798-5155  glenngfam@sbcglobal.net
We dine on the first Tuesday
of the month
Tuesday,  December 5th
 at

Old Spaghetti Factory
 Dinner is at 5:00 p.m.
Our Tuesday, December 5th dinner will be at The Old Spaghetti factory, 1955 Mount Diablo St, Concord.  It seems our dinners are getting earlier and earlier, so please make an effort to arrive by 5 p.m.   Our host is John Vallor, so please confirm directly with him whether you will be attending or not.
John Vallor,   925-324-5660   jvallor@gmail.com
.
Ten of us dined in November at the Buttercup Pantry in Walnut Creek thanks to host Peter Shapiro
Glenn Gilman, Chairman, 925-798-5155  glenngfam@sbcglobal.net     
Don Atwater, Asst. Chairman  925-673-1669   datwater@pacbell.net
John Vallor, Host   925-324-5660   jvallor@gmail.com
.
+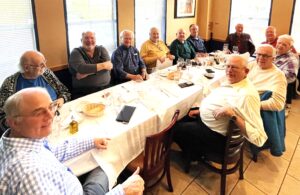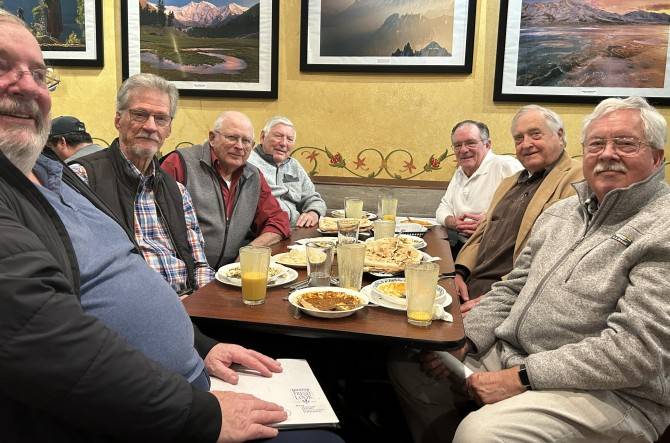 Dinner at Naan ^ Curry, Concorfd 12/6/2022.
 John Vallor, Jim Sowell, Dick Hixson, Hugh Barnett, Ray deWit Glenn Gilman, Rich Knowles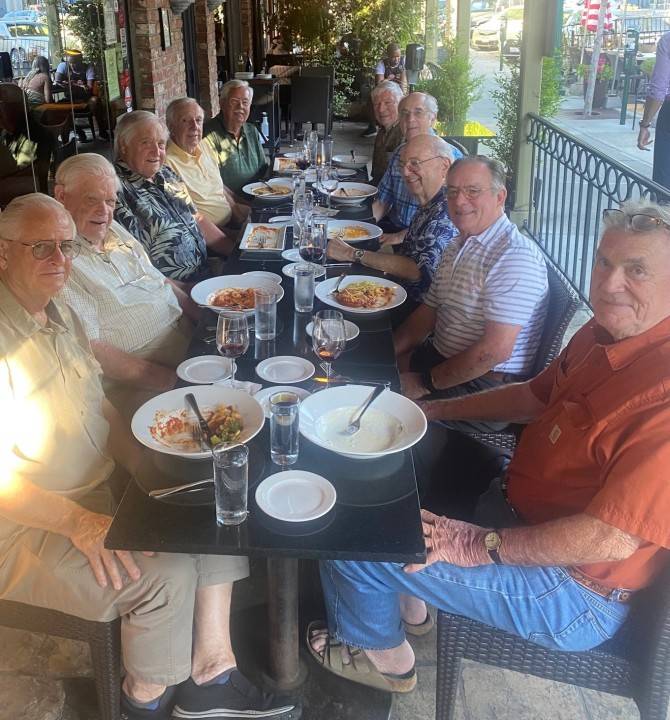 Dining @ Massimos L/R Frank Kilarr, Don Atwater, Glenn Gilman, Bill Barber, Hugh Barnet, Rick Knowles, Peter Shapiro,
Ron Cassano,  Ray de Wit, Dan Crowley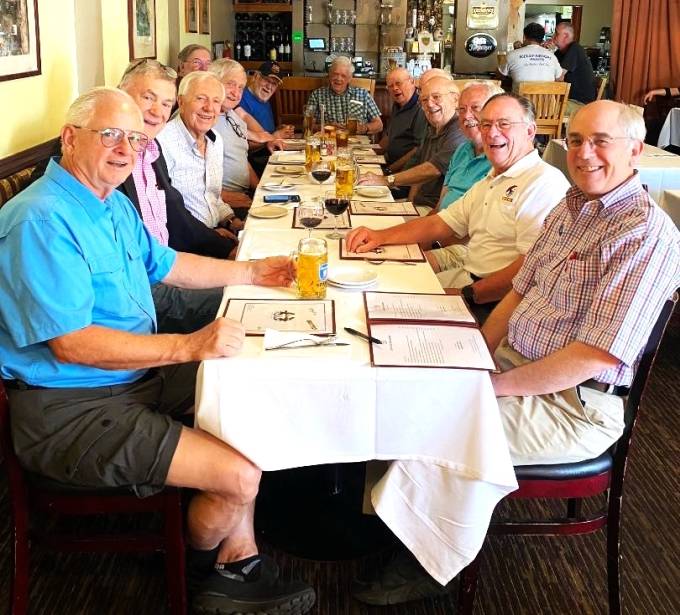 Dining @ DJ Bistro June/2022
L/R Frank Kilarr, Dan Crowley, Bill Barber, Glenn Gilman,
John Vallor, Norm Cox, Don Atwater, Dick Hixson, Stan Hennessy, RonCassano, Rich Knowles, Ray de Wit, Peter Shapiro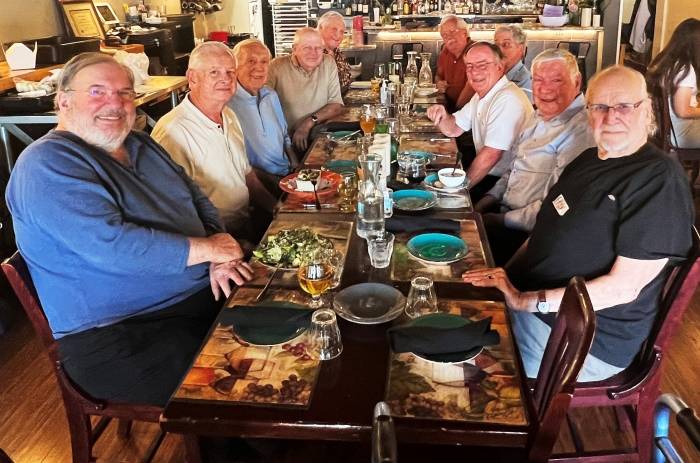 Dining @ Maxx May/2022
L/R John Vallor, Frank Kilarr, Bill  Barber, Dick Hixson, Glenn Gilman, Rich Knowles, Rich Rosin, Ray de Wit, Hugh Barnett, Norman Cox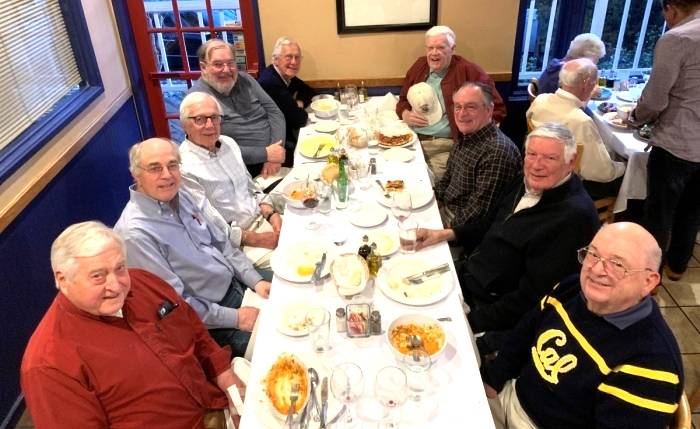 Dining @ LaVeranda, March 2022
L/R Glenn Gilman, Peter Shapiro, Bill Barber, John Valler,Phil Philpot, Don Atwater, Ray de Wit, Hugh Barnett, Ron Cassano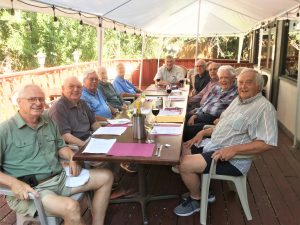 Dining at Mr Luckey's in July 2021, Photographer  Dick Hixson
L/r Frank Kilarr, Ron Cassano,, Rich Knowles, Stan Hennessey, Phil Philpot, Dan Crowley, Bill Barber, Peter Shapiro, Don Atwater and Glenn Gilman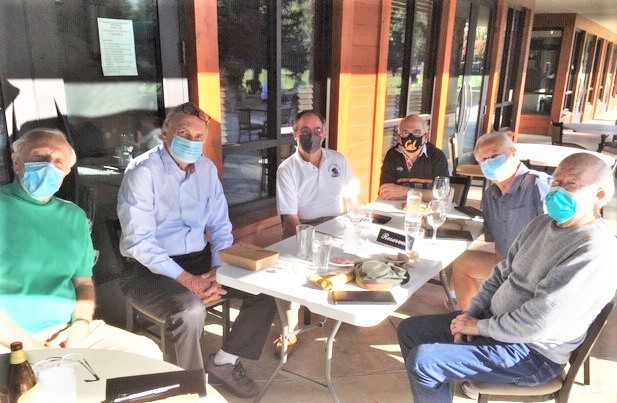 Outdoor Dining at Creekside Grill in August, 2020
L-R  Bill Barber, Dan Crowley,  Host Ray de Wit,
Ron Cassano, Frank Kilarr, Stan Hennessey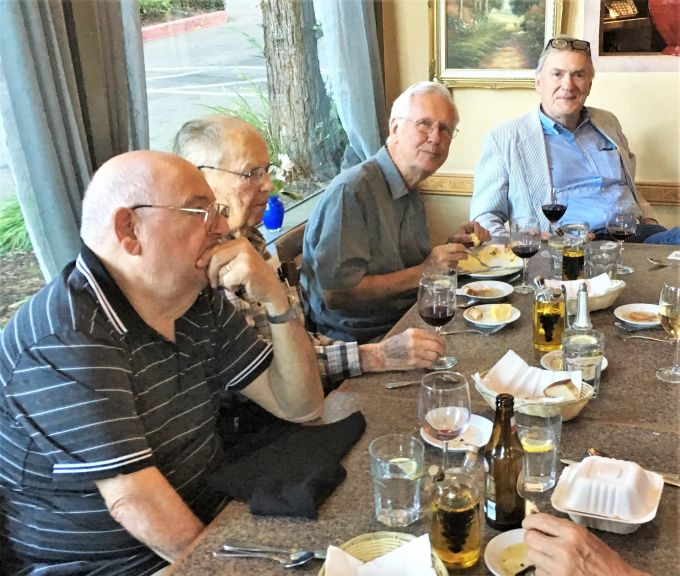 Dining at Taheris Restaurant October 2019
Host Ron Cassano, Ray Nummi, Phil Philpot, Dan Crowley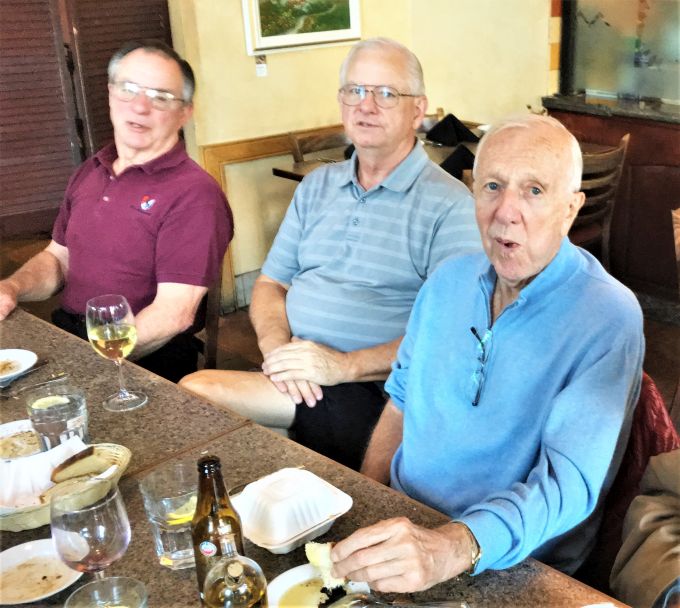 Dining at Taheris Restaurant October 2019   
Ray deWit, Frank Kilarr, Bill Barber
updated 11/18/2023 dda