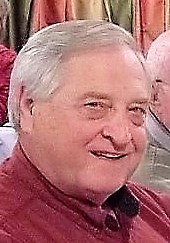 Glenn Gilman, Chairman 
 798-5155  glenngfam@sbcglobal.net
We dine the first Tuesday
of the month
Tuesday, November 2nd. 
 we dine at DJ Bistro Restaurant,
1825 Sutter St, Concord
Social time 5:00 p.m., Dinner 5:30 p.m.
 Host –Don Atwater, datwater@pacbell.net
DJ Bistro is our restaurant on November 2nd.   Host Don Atwater says expect German cuisine with Hungarian Goulash & Schnitzel dinners running about $13.00.  Expect to Dine inside, mask protocol dependent on county guidelines at the time we gather.
DJ Bistro is located at 1825 Sutter St, Concord,  Sutter Street is a street that runs between Willow Pass Road and Concord Blvd. and the restaurant faces the inside parking lot.  We gather at 5:00 pm.
Last month we dined outside at the Cheesecake Factory in Walnut Creek, thanks to our host Bill Barber.   Good conversation, good friends, good food made for a good evening.   We hope many of our Branch 8 members will join us next month. 
Glenn Gilman, Chairman 798-5155  glenngfam@sbcglobal.net
Don Atwater, Asst. Chairman 673-1669   datwater@pacbell.net
It is good to know that our membership (Dine Out Single Sirs) is 100% vaccinated for COVID19 and all have completed the SIR  waiver.  So guys, let's pay attention to the health guidelines the county and the restaurant have in effect at the time we dine.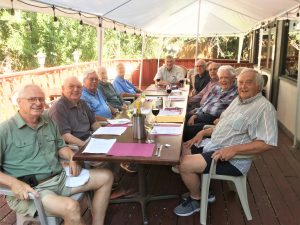 Dining at Mr Luckey's in July 2021, Photographer  Dick Hixson
L/r Frank Kilarr, Ron Cassano,, Rich Knowles, Stan Hennessey, Phil Philpot, Dan Crowley, Bill Barber, Peter Shapiro, Don Atwater and Glenn Gilman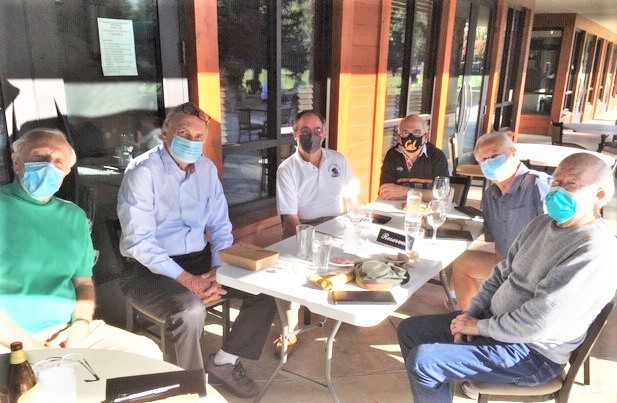 Outdoor Dining at Creekside Grill 8-4-2020
L-R  Bill Barber, Dan Crowley,  Host Ray de Wit, Ron Cassano,
Frank Kilarr, Stan Hennessey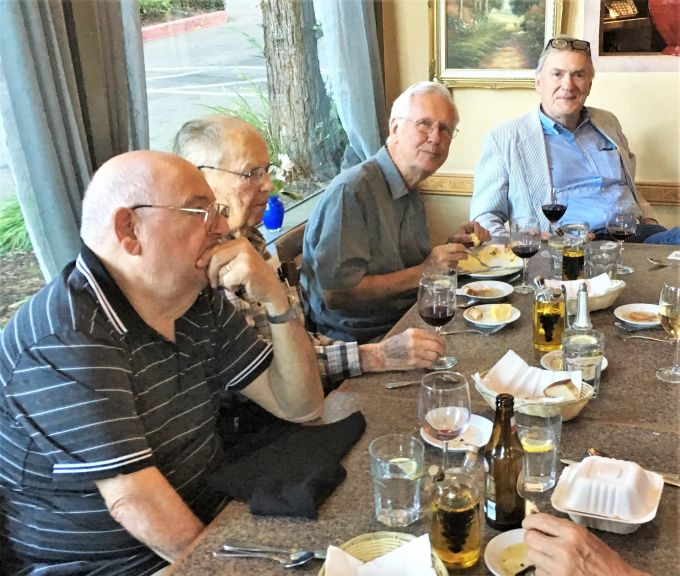 Dining at Taheris Restaurant October 2019
Host Ron Cassano, Ray Nummi, Phil Philpot, Dan Crowley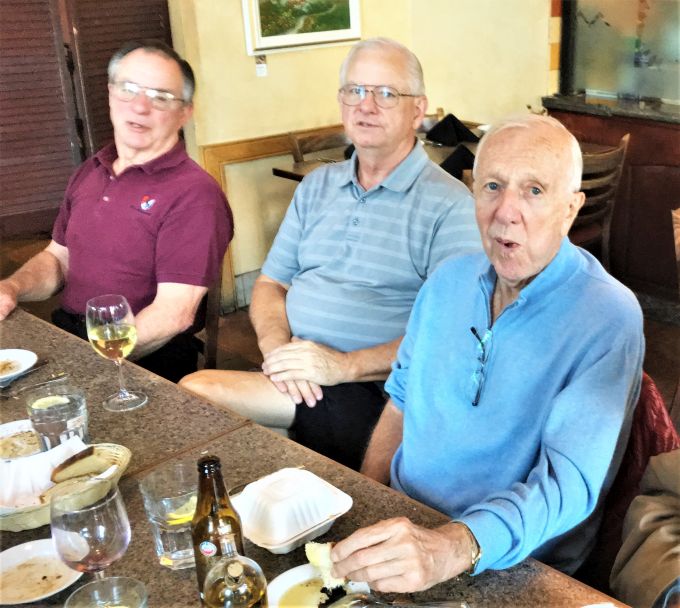 Dining at Taheris Restaurant October 2019   
Ray deWit, Frank Kilarr, Bill Barber
updated 10/20/2021 dda