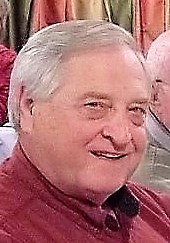 Glenn Gilman, Chairman 
 798-5155  glenngfam@sbcglobal.net
We dine the first Tuesday
of the month
Tuesday, August 3rd, our monthly dining takes us to Massimo in Walnut Creek.  Located at 1604 Locust Street with a parking garage across the street.  . 
Social time 5:00 p.m., Dinner 5:30 p.m.
 Host – Dan Crowley 602-740-6644  danieltcrowley@hotmail.com    
Massimo, an upscale Italian restaurant with outside dining in downtown Walnut Creek will be a first for our dinner group.    If you are single at dinner time and wish to join the guys for dinner on the first Tuesday of the month, let Chairman Glenn know and a seat will be saved for you.  Separate checks ensure each pays for his own meal. 
Check out the menu here – https://www.massimoristorante.com/menus
It is good to know that our membership (Dine Out Single Sirs) is 100% vaccinated for COVID19 and all have completed the SIR  waiver.  So guys, let's pay attention to the health guidelines the county and the restaurant have in effect at the time we dine.  Last month eleven of us dined as friends outside at Mr Luckey's in Pleasant Hill. We send thanks to our host Frank Kilarr.
Glenn Gilman Chairman 798-5155  glenngfam@sbcglobal.net  
Don Atwater, Asst. Chairman  673-1669  datwater@pacbell.net 
Dan Crowley 602-740-6644  danieltcrowley@hotmail.com    
Glenn Gilman, Chairman 798-5155  glenngfam@sbcglobal.net    
Don Atwater, Asst. Chairman 673-1669   datwater@pacbell.net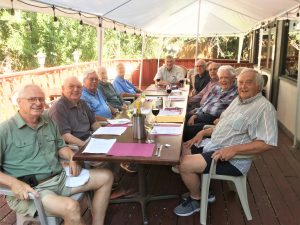 Dining at Mr Luckey's in July 2021, Photographer  Dick Hixson
L/r Frank Kilarr, Ron Cassano,, Rich Knowles, Stan Hennessey, Phil Philpot, Dan Crowley, Bill Barber, Peter Shapiro, Don Atwater and Glenn Gilman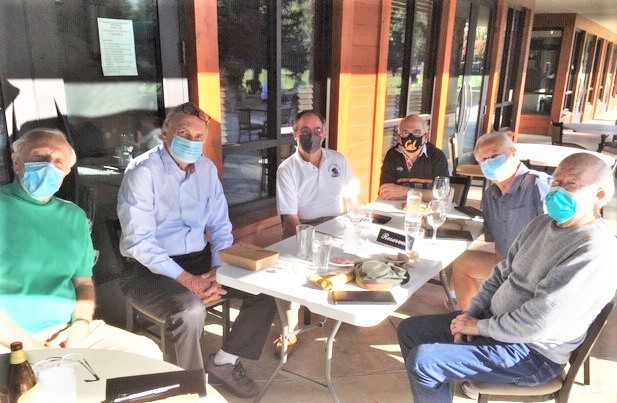 Outdoor Dining at Creekside Grill 8-4-2020
L-R  Bill Barber, Dan Crowley,  Host Ray de Wit, Ron Cassano,
Frank Kilarr, Stan Hennessey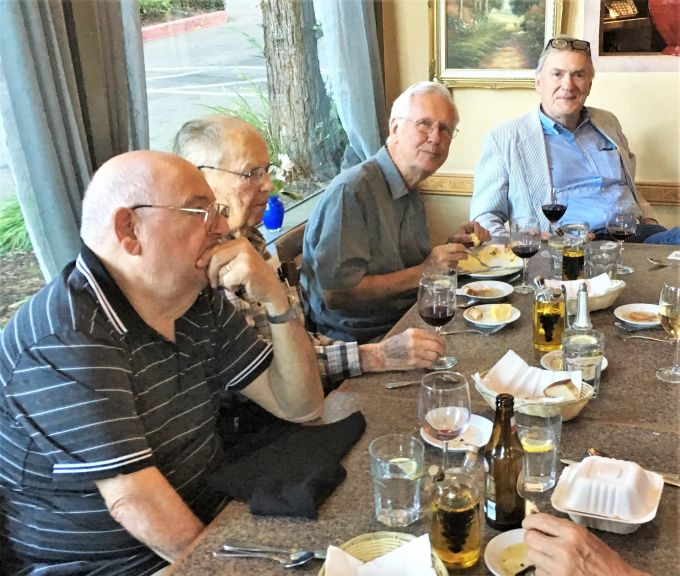 Dining at Taheris Restaurant October 2019
Host Ron Cassano, Ray Nummi, Phil Philpot, Dan Crowley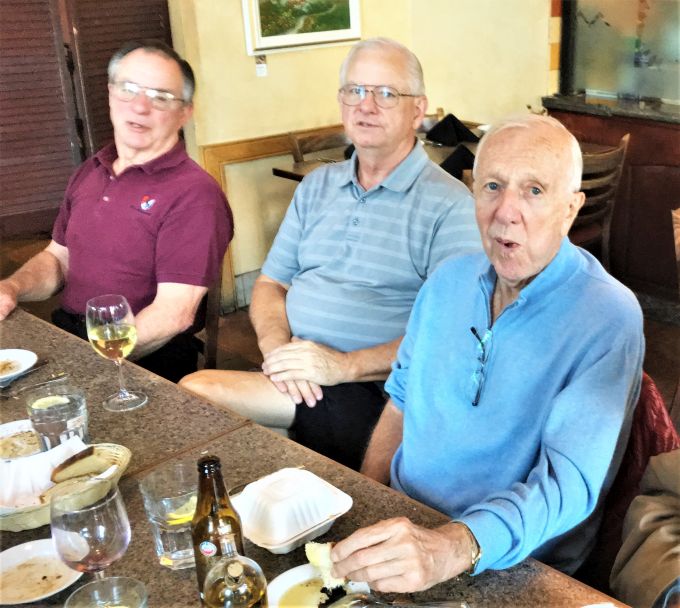 Dining at Taheris Restaurant October 2019   
Ray deWit, Frank Kilarr, Bill Barber
updated 07/17/2021 dda