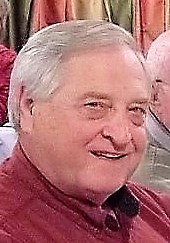 Glenn Gilman, Chairman 
 798-5155  glenngfam@sbcglobal.net
We dine the first Tuesday of the month
when it is determined safe to return to our normal activities.
We dine the first Tuesday of the month and plan to restart in August.
Unlike most Sir members, during these pandemic times, we as single men have needed to prepare our own meals or take advantage of delivery or pick up service.   So the thought of dining out is most appealing.   We are considering restarting our activity August 4th.  Restaurant and location TBD (to be determined).  We are being guided by public health announcements and our BEC regarding restaurant dining and expect these will be clearer by August.  
Please let chairman Glenn know if you wish to join us for as we renew our monthly dine outs.
Glenn Gilman Chairman 798-5155  glenngfam@sbcglobal.net  
Don Atwater, Asst. Chairman 673-1669  datwater@pacbell.net 
Glenn Gilman Chairman 798-5155  glenngfam@sbcglobal.net  
Don Atwater, Asst. Chairman 673-1669  datwater@pacbell.net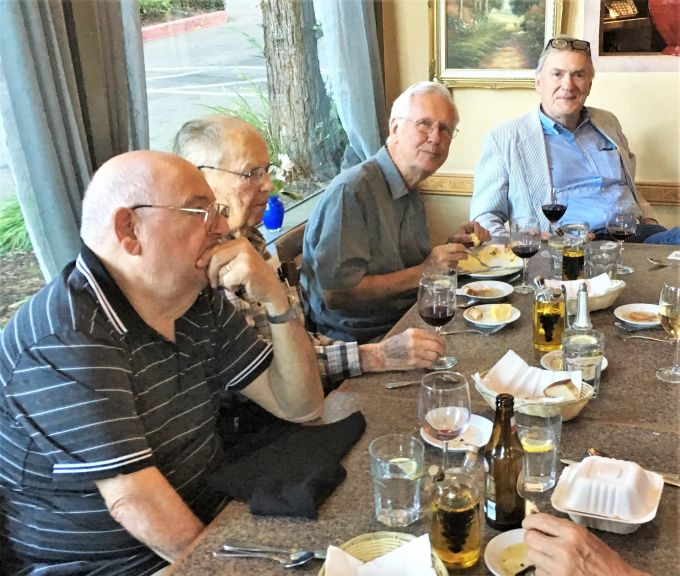 Dining at Taheris Restaurant October 2019
Host Ron Cassano, Ray Nummi, Phil Philpot, Dan Crowley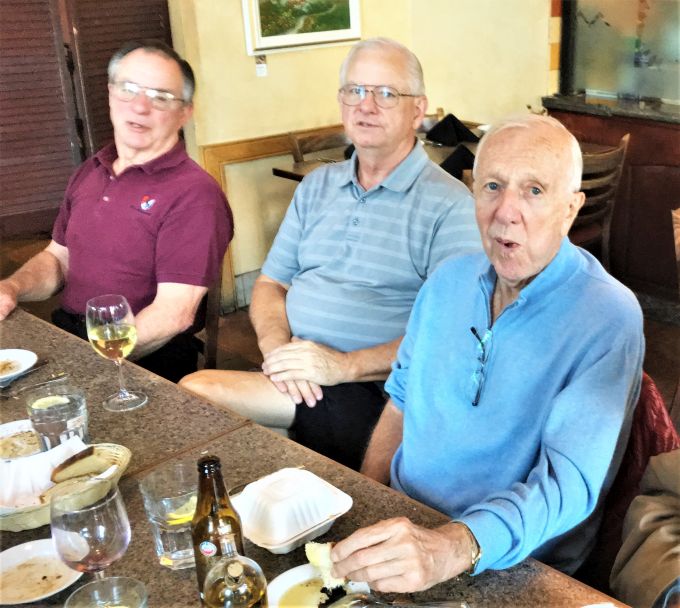 Dining at Taheris Restaurant October 2019   
Ray deWit, Frank Kilarr, Bill Barber
outdoor dining @ Mr Lucky's July 2019
l/r – Ray de Wit, Ron Cassano, Norman Cox, Stan Hennessey, Marv Kreitz
Frank Kilarr, Bob Bailey, Don Atwater. Glenn Gilman, Ray NummI
Dinner at La Tapatia March 2019
l/r  Ron Cassano, Frank Kilarr, Marv Kreitz, Stan Hennessey, Phil Philpot, Glenn Gilman, Don Atwater, Bob Bailey, Ray Nummi
Dinner at Mr Lucky's February 2019
L/R  Don Atwater, Bob Bailey,  "3 no name heads", Glenn Gilman,
Frank Kilarr, Ray Nummi, Clark Morehouse, Ray deWit
Dinner at Mr Lucky's February 2019
L/R Glen Gilman, Frank Kilaar, Ray Nummi,, Clark Morehouse, Stan Hennessey, Ray deWit, Don Atwater, Bob Bailey, Ron Cassano, Marv Kreitz
Dinner at DJ Bistro, January 2019
L/r Marv Kreitz, Don Atwater, Phil Philpot, Frank Kilarr, Stan Hennessey, Ray Nummi, Glen Gilman, Ron Cassano
Dinner at Back Forty Texas November 2018
Ron Cassano, Glenn Gilman, Phil Philpot, Ray de Wit, Don Atwater,
Marv Kreitz, Ray Nummi, Stan Hennessey
Dinner at Peony Gardens, April 2018
Bob Baily (back to camera), then L-R  Don Atwater, Glen Gilman, Ray Nummi, Stan Hennessey, Jerry White,Frank Kilarr, Marv Kreitz and Don Marchman
Dinner at the Lazy Dog Restaurant, February 6, 2018
Left to right: Bob Bailey, Marv Kreitz, Jerry White, Bill Barber, Clark Morehouse, Norman Cox, Stan Hennessy, Glen Gilman, Don Atwater
  @ La Tapatia  December 2017
Left to Right  Clark Morehouse, Ray Nummi, Stan Hennessey, Glenn Gilman, Bob Bailey, Marv Kreitz, Frank Kilarr,Don Marchman, Don Atwater and host Norman Cox. August 2, 2017 @ Claim Jumper Restaurant
L/R Don Marchman, Ray Nummi, Glen Gilman, Frank Kilarr @ Mr. Lucky's March 2017
Lazy Dog Restaurant 2016
R/L – Patrick Alexander, Jerry White, Stan Hennessy, Jack Stack, Zip Zaro, Bob Bailey
Lazy Dog Restaurant 2016
L/R – Norman Cox, Clark Morehouse, Ray Nummi, Murray Shelton
Around the table from bottom left is Clark Morehouse, Bob Bailey, Don Atwater, Gene McManus, Zip Zaro (hidden), Herb Hellsten, Marv Kreitz. Norman Cox, Jack Stack, Bon Wadors and Ray Nummi
Marv Kreitz, Jack Stack, Clint Rudd, Zip Zar at Lazy Dog Restaurant October 2015

L-R Herb Hellsten, Jerry White, Ray Nummi, Clark Morehouse, Bon Wadors
at Lazy Dog Restaurant, October 2015
Creek Restaurant in Rossmore  January 2016
L-R around the table
Marv Kreitz. Jerry White. Jack Stack, Bon Wadors, Patrick Alexander, Bob Bailey,
Stan Hennessy, Clark Morehouse, Ray Nummi, Don Atwater, Dan Franklin, Bob Cramer
updated 06/18/2020 dda