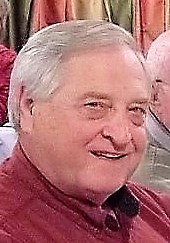 Glenn Gilman, Chairman 
 798-5155  glenngfam@sbcglobal.net
We dine on the first Tuesday
of the month
Tuesday, December 6th
 at
Naan N Curry Restaurant

2068 Salvio St, Concord.
Social time is at 5:00 p.m., and Dinner is at 5:30 p.m.
Host: John Vallor 324-5660  jvallor@gmail.com 

Naan N Curry has been selected for our December 6th dinner by host John Vallor.   This restaurant is located 2068 Salvio St, Concord.   Cuisine is from India & Pakistan and the menu may be found here:  http://naancurryconcord.com/menu#mix
All SIR Branch 8 members are invited to attend (stag), just let host John know and a place at the table will be reserved for you.  We gather at 5 p.m. Host John Vallor should be notified if you plan to attend. 
 Last month 10 of us dined at the Canasta Restaurant, thanks to host Dick Hixson.  The conversation was friendly and interesting and the cuisine was Mexican.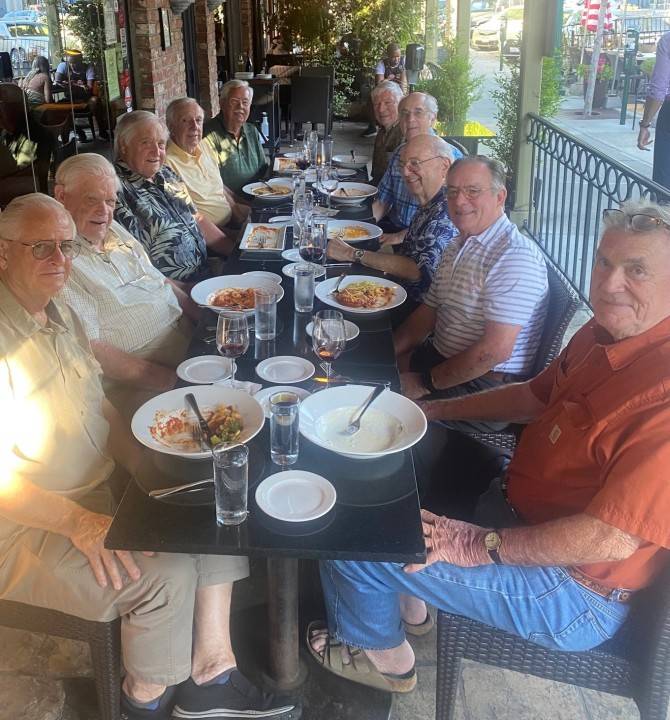 Dining @ Massimos L/R Frank Kilarr, Don Atwater, Glenn Gilman, Bill Barber, Hugh Barnet, Rick Knowles, Peter Shapiro,
Ron Cassano,  Ray de Wit, Dan Crowley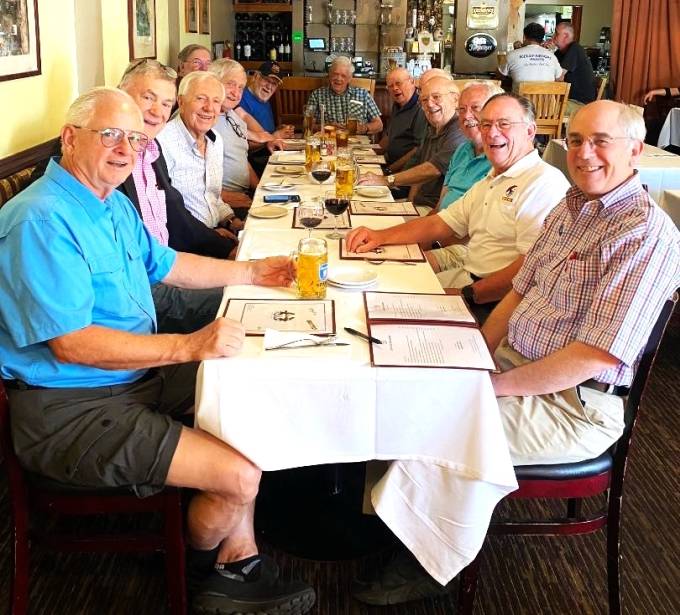 Dining @ DJ Bistro June/2022
L/R Frank Kilarr, Dan Crowley, Bill Barber, Glenn Gilman,
John Vallor, Norm Cox, Don Atwater, Dick Hixson, Stan Hennessy, RonCassano, Rich Knowles, Ray de Wit, Peter Shapiro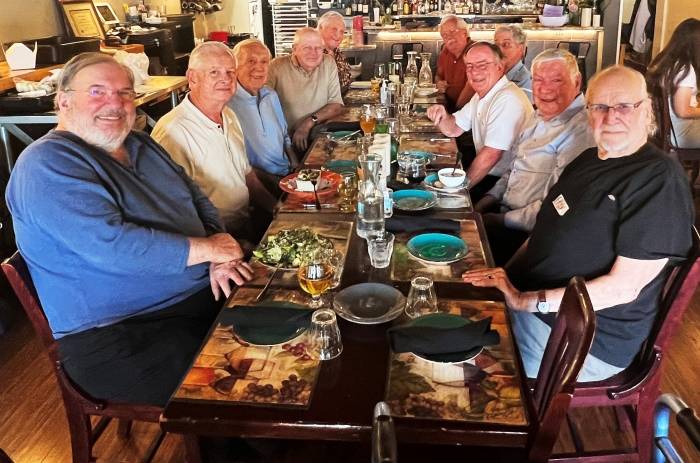 Dining @ Maxx May/2022
L/R John Vallor, Frank Kilarr, Bill  Barber, Dick Hixson, Glenn Gilman, Rich Knowles, Rich Rosin, Ray de Wit, Hugh Barnett, Norman Cox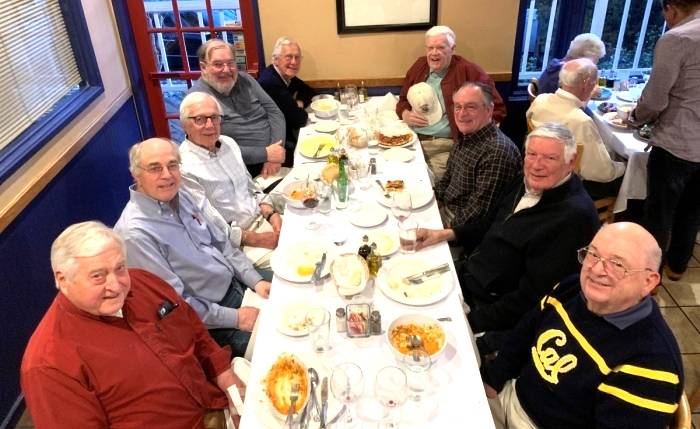 Dining @ LaVeranda, March 2022
L/R Glenn Gilman, Peter Shapiro, Bill Barber, John Valler,Phil Philpot, Don Atwater, Ray de Wit, Hugh Barnett, Ron Cassano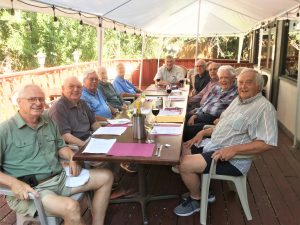 Dining at Mr Luckey's in July 2021, Photographer  Dick Hixson
L/r Frank Kilarr, Ron Cassano,, Rich Knowles, Stan Hennessey, Phil Philpot, Dan Crowley, Bill Barber, Peter Shapiro, Don Atwater and Glenn Gilman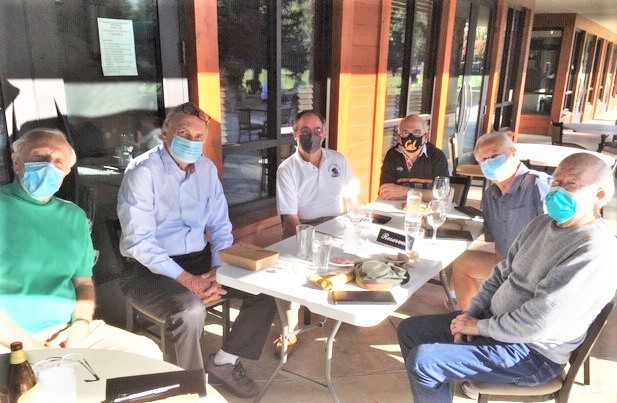 Outdoor Dining at Creekside Grill in August, 2020
L-R  Bill Barber, Dan Crowley,  Host Ray de Wit,
Ron Cassano, Frank Kilarr, Stan Hennessey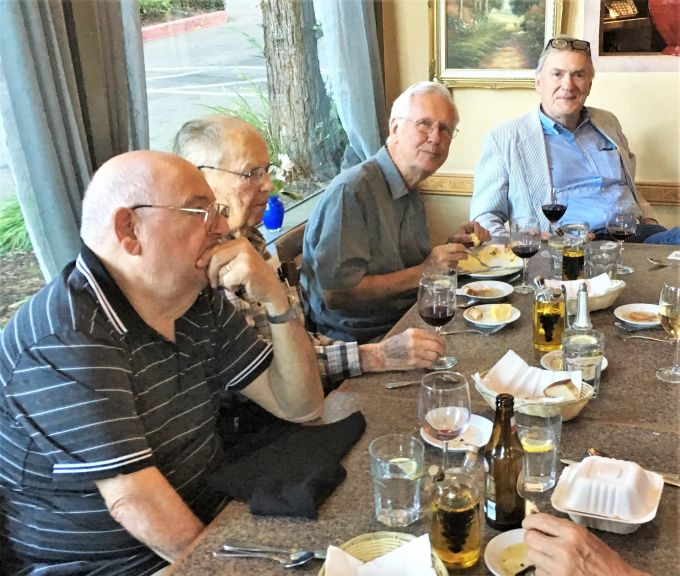 Dining at Taheris Restaurant October 2019
Host Ron Cassano, Ray Nummi, Phil Philpot, Dan Crowley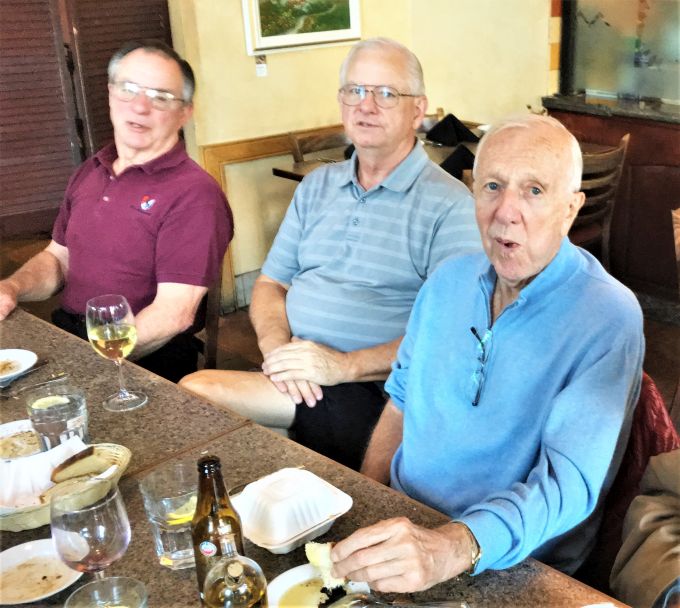 Dining at Taheris Restaurant October 2019   
Ray deWit, Frank Kilarr, Bill Barber
updated 10/14/2022 dda