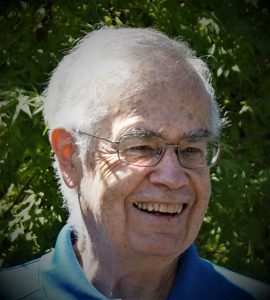 Dan Weller – Chairman              H: 935-5510 C: 925-395-1732 
 THE WALKING PROGRAM AT BRANCH 8
Our group is called the "Heads Up Walkers". We walk just about every week and encourage significant others and guests of our group to join us. We are not into mountain climbing nor do we go over dangerous or slippery trails. One-hour walks start on Thursday Mornings at 9:30 AM.  Most of the one-hour walks are on the relatively level paved ground and are "out and back" which means you walk for 30 minutes at your own pace, then turn around and walk 30 minutes back to the starting point. We leave the trail by 10:30 AM and go to a nearby cafe for coffee, snacks, and interesting conversation.  Spouses, friends, and well-mannered dogs are welcome.
Note, all walks will be abiding to all of the rules from national, state, county, city and SIR organizations. 
September 2023 Walks
We walk every Thursday morning at 9:30 AM. We walk for one hour and then go for coffee and snacks.
8/24/2023: Concord: Hester Park
. Meet at Hester Park, corner of Hookston & Bancroft, street parking on Hampton or Hookston, adjacent to the park. Cafe: Noah's New York Bagels. Leader: Jan Persson. Difficulty: E
8/31/2023: Moraga: Lafayette / Moraga Trail SMC staging area. Meet at the staging area on St. Mary's Road approx. 1/10th mile north of the entrance to St. Mary's College. Cafe: Noah's New York Bagels. Leader: Jim Sowell. Difficulty: M
9/7/2023: Walnut Creek: Arbolado Park, Ygnacio Canal. Take Ygnacio Valley Rd. to Oak Grove Rd. Then south past W.C. library to Arbolado Dr., left to Arbolado Park, meet at the upper parking lot near the soccer field and rest room. Cafe: Whole Foods – Oak Grove / Ygnacio Valley Road. Leader: Leo Dominguez. Difficulty: E
9/14/2023: Pleasant Hill: C.C. Canal. Meet in the shopping center parking lot at the corner of Taylor & Morello, (North of the service station). Cafe: Panera Bread Cafe. Leader: Manuel Dominguez. Difficulty: M
9/21/2023: Lafayette: Lafayette Reservoir. WARNING!! THIS IS OUR MOST DIFFICULT WALK WITH MANY FAIRLY STEEP HILLS. PLEASE SKIP THIS WALK IF YOU HAVE ANY PROBLEMS DOING OUR FLAT WALKS. Entrance on Mt. Diablo Blvd., about 1 mile west of Happy Valley Rd. Meet at the EAST (far left) end of metered parking lot. Bring 8 quarters or use a VISA or Master Card. Cafe: Noah's New York Bagels. Leader: Phil Trapp. Difficulty: H
9/28/2023: Concord: C.C.C. Regional Trail, Via Montanas. Take Treat Blvd east. Go 3/4-mile past Oak Grove and turn left on San Miguel. Turn right on Via Montanas. Turn left into the Parking Lot just past the bridge over the canal. Cafe: Peet's Coffee. Leader: Rich Rosin. Difficulty: E
10/5/2023: Walnut Creek: C.C. Canal Heather Farm. Meet at the Heather Farm parking lot at the far North end of San Carlos Dr. Cafe: Sweet Affair Bakery. Leader: Steve Schramm. Difficulty: E
CHAIRMAN: Dan Weller – 925-939-5510 – dweller@astound.net
ASSISTANT CHAIR: Dave Morse – 925-938-3078 – dmorse88@yahoo.com
ASSISTANT CHAIR: Phil Trapp – 925-963-1819 – prtrapp@sbcglobal.net
Last updated on 08/17/23 by Dan W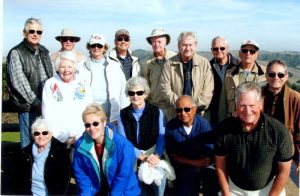 Group Photo at Tilden Park Inspiration Point – 2010
Enjoying a nice walk in the rain. December 2021