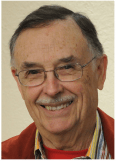 Chairman: 254-8338
rphelon@juno.com
The June Digital Photo Zoom meeting was another in our Zoom photo sharing efforts. We've still not reached the "expert class," but we're working on it. At this meeting, we shared a dozen of our best travel photos. Some of us even had "new" to the group travel photos!
In July, members with be Zooming their "Old Sports Photos of Kids!" Actually, this can be photos of themselves as kids, their kids or other people's kids. Or just kid photos, if you're not into sports. Back when I was a kid the first "sports" that I encountered were when I entered high school. No middle school sports, no little leagues. It might have had something to do with the war…. There was a fat little kid on the swimming and water polo teams in high school that I seem to remember.
During this "social distancing " era, the Digital Photo group will be holding "virtual" meetings using Zoom. As always, we'll be meeting on third Fridays of the month beginning at 10:00 AM.Photo group members will be sent a Zoom link (possibly even the day before the meeting). New SIR Branch 8 members interested in digital photography should email the chairman to be placed on our email list.
Bill Phelon, Chair Dave Davis, Vice Chair
rpheon@juno.com dav.davis@comcast.net
254-8338 838-1753
updated 6/20/2020 by DLS
———————————————————————————————
THEME ASSIGNMENTS FOR 2020
Jan

People in Motion/Action Photography *

Feb

Scavenger Hunt – Nick *

Mar

Macro Photography

Apr

Art of Composition

May

Pet Photography

Jun

12 Favorite Travel Photos

Jul

Old Sports Photos of Kids

Aug

Environmental Portraits *

Sep

Tell a Story

Oct

Go Crazy with Editing *

Nov

Photographing Your Backyard *

Dec

Christmas Lunch

* Member Suggestion
The Digital Photography Group meetings begin at 10:00 AM on the third Friday of the month. Coffee, tea and snacks are provided, for which we ask a $2 donation. All levels of photographer are welcome, from point and shooters to sophisticated mirrorless & DSLR users. We even entertain phone photos!
To provide some structure to our meetings, we assign "themes" for our photos. Each Theme runs for at least two meetings, giving us more opportunity to get the shots we want. Thus, each meeting will have a new Theme as well as photos from the Theme for the previous month or months. Monthly photos may be divide in any manner between the two Themes – i.e., you don't have to split your photos 50-50. Another benefit of including shots using a previous month's Theme is that you can take photos using ideas or techniques learned from others the previous month.
Your photo limit for showing is 12 shots on a flash drive. Although we have "theme assignments," we also strive for flexibility – you may bring photos you think the members would enjoy or learn from, whether or not they support the current Themes. Or, if things are not working out, you may skip showing your photos in any month.
During the photo showings, we do encourage you to discuss both your photos and those of others – what you liked, what you didn't like. The goal is to help each of us improve our photography.