Branch Activities CANCELLED for APRIL
MESSAGE TO SIR BRANCH 8 MEMBERS AND GUESTS
MARCH 20, 2020
The outbreak of the Coronavirus (COVID-19) led the Branch Executive Committee (BEC) to abruptly cancel our SIR Branch 8 luncheon on March 9, and to suspend all of our activities and events through March 31, 2020.  We will continue the luncheon cancellation and activity suspensions in April.
This decision means that we will NOT have our SIR luncheon on Monday, April 13.  In addition, all branch activities will remain suspended through April 30, 2020.
Governor Gavin Newsom has directed California residents to "shelter-in-place" indefinitely.  Bay Area county governments have announced similar health orders.  All residents have been instructed to remain at home except for trips to fulfill essential needs.  As you may know, health experts have identified seniors as the high risk population for the COVID-19 virus.
I encourage you to follow the guidance of public health professionals.  Although we must be aware of misinformation and scams, some trusted health guidance is posted on the branch website (Sirbr8.com).  Following that guidance is especially important for seniors.
Eventually, we will get through this health crisis and be able to resume the activities that we all enjoy.  We are hopeful that we will hold our two special events in June – Ladies Day Luncheon on June 8 and the Branch 8 Barbecue on June 16.  Consequently, we will continue to process signups and payments for those two events.  Please check the branch website for the details and signup for these events.
During this challenging time, make sure that your families and friends are safe and healthy.  Let us keep in touch with each other via phone, emails, and texts.  Using the SIR Branch 8 network will provide support and encouragement to all.  During April, we will provide updates as dictated by public health announcements and related developments.  Please monitor your email and our branch website for these updates.
I look forward to the time when we can resume our luncheons, activities, and the social interaction that makes SIR Branch 8 so special.        
Let's stay apart to stay together
Steve Schramm, 
Big Sir, Branch 8
CLICK HERE to read the latest news regarding shelter-in-place orders and answers basic questions about COVID-19 in Contra Costa County.
CLICK HERE to view an EXCELLENT video explaining how the Coronavirus replicates and causes lung damage, and worse.
If you want to explore current statistics of the pandemic  CLICK HERE 
Science explains why washing your hands with soap and water is the recommended way to avoid getting sick and spreading germs.
Soap and water is BETTER than using a hand sanitiser!
To read the article  CLICK HERE.
CLICK HERE to view good advice titled 
Does The Type Of Soap Or Hand Sanitizer You Use
Matter For Coronavirus?  
Read an interactive awareness guide of the coronavirus and COVIR-19
in an online Issu booklet. Click HERE to read it.
(Hint: use the arrows on the right and left side to move between pages)
Join us in Branch 8 and Make Friends for Life
SIR Apparel Store is Operating
… and of course, as with all important events relying on timing, the shipment was delayed because of the President's Day Holiday. All orders can be picked up at our March Luncheon at the SIR Apparel Lobby table. You can also place your Spring and Summer SIR Branch 8 logo apparel orders at the same time.
Any questions? Please contact Tony De Losada
925-945-1730 
Cell
510-566-2661  
tonydelosada@gmail.com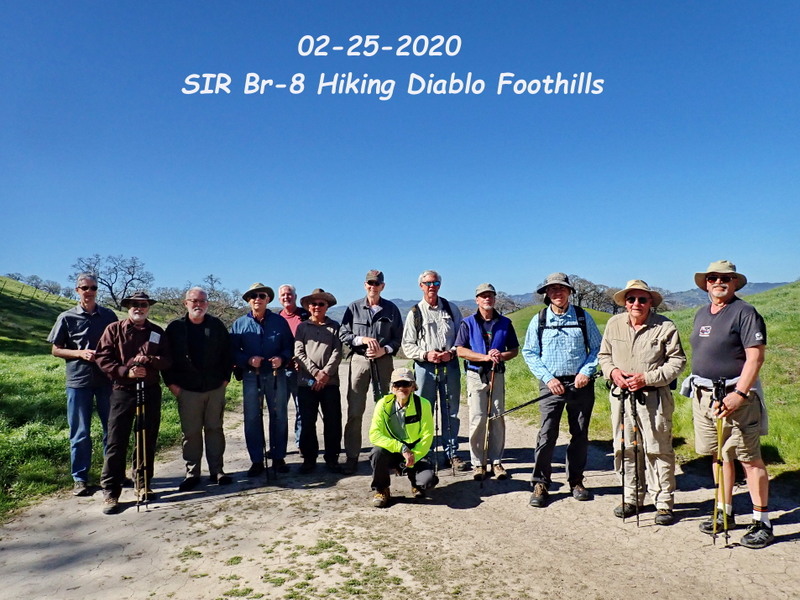 Memories for Active Hikers!
Once upon a time there was great weather for a 'stroll' in the foothills,
and no concern about social distancing!

Protect yourself and your computer from online thieves:
CLICK HERE to know how to avoid being phished
CLICK HERE for the Seniors Guide to Online Safety

CLICK HERE  for Tips for Strong Secure Passwords