Join Us in Branch 8 and Make Friends for Life
To see our Branch Video  CLICK HERE
To read a copy of our latest Newsletter CLICK HERE
To join us, or ask any questions  CLICK HERE
To watch an 11 minute video of the Business part of the September lunch meeting, including the HLM award to Sir Stan Johnson,
CLICK HERE
To listen to the presentation by Michael Baker, MD  Rear-Admiral USN (Retired)
CLICK HERE
BRANCH  8 
OCTOBER 12,  MEMBERSHIP  MEETING
JOIN  US  VIA  ZOOM!
Would you like an opportunity to actually "see" your SIR friends?
Our next membership meeting is scheduled for Monday, October 12.
We will meet virtually via Zoom. Our session will begin at 10:30 am, and it will include an opportunity to socialize, a little Branch 8 news and information, and a special guest speaker.  
Please add this meeting to your calendar, and watch this space for more information.
See you on October 12 at 10:30 am on Zoom!
CLICK HERE to view an EXCELLENT video
explaining how the Coronavirus replicates,
causes lung damage, and worse.
Join us in Branch 8 and Make Friends for Life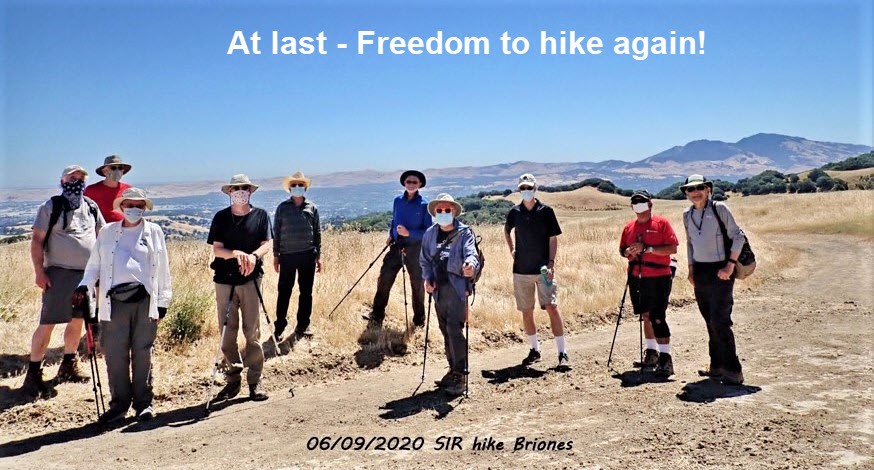 Once again we are enjoying  a 'stroll' in the foothills,
but social distancing and masks are still important!

Protect yourself and your computer from online thieves:
CLICK HERE to know how to avoid being phished
CLICK HERE for the Seniors Guide to Online Safety

CLICK HERE  for Tips for Strong Secure Passwords