BRANCH 8 MEMBERSHIP MEETING WE'RE GOING ZOOMING AGAIN!
Would you like an opportunity to actually "see" your SIR friends?
Our next membership meeting is scheduled for Monday, August 10. We will meet virtually via Zoom. Our session will begin at 10:30 am, and it will include an opportunity to socialize, a little Branch 8 news and information, and a special guest speaker.
Debbie Toth, Choice in Aging, will speak about senior services in our area and the latest developments at their facility in Pleasant Hill.
Please add this meeting to your calendar, and watch your emails and the Branch 8 website for more information.
See you on August 10 at 10:30 am on Zoom!
Branch 8 Update
July 18, 2020
"Two steps forward and one step back."  That phrase summarizes the world that we live in today.  In terms of the COVID-19 pandemic, we improve our ability to understand the problem with more and better testing, and we develop logical plans for re-opening workplaces and businesses.  However, we take one big step back with a spike in positive cases and increased risk to public health.
For SIR Branch 8, we are carefully monitoring this rapidly changing situation.  At this time, we have not reversed earlier approvals of several outdoor activities.  In fact, the Branch Executive Committee (BEC) approved the Dine Out Single SIR activity request to hold an outdoor dining event in August.  As a sign of caution, our Car Enthusiasts did postpone their "Poker Run" until the fall.  We are monitoring the approved activities to ensure that they can be held in safe and healthy environments, and managing difficulties as they arise.
A number of activities are also meeting via Zoom.  On July 13, we had our first SIR Branch 8 Membership Meeting on Zoom.  It is likely that we will continue to hold these monthly Zoom sessions on the second Monday of each month.  At our meeting, we provided several Branch 8 updates, enjoyed an excellent presentation from our own Dan Smith, and arranged for online social engagement in small groups using the Breakout Room feature of Zoom. 
We distributed a brief survey this week to obtain feedback and ideas for how to make these Zoom sessions more effective going forward.  The overall Membership Meeting was rated Good, Very Good, or Excellent by 92.2% of the respondents.  Our Speaker also received high marks(88.3%), and there were several good suggestions that we will apply to future meetings.
If you are interested in a Zoom practice session, please contact Nick Maufe, nickmaufe@gmail.com.  Nick will be conducting sessions during the next few weeks.
As a branch, we will continue to exercise our Zoom muscles for future activities and membership meetings.  Our next meeting is scheduled for Monday, August 10.  Debbie Toth of Choice in Aging will be our guest speaker.  More details about the agenda, speaker, Zoom access, and other arrangements will be coming soon.  Watch for the email announcements, and check out the Branch 8 website.
Let's stay apart to stay together
Steve Schramm
Big Sir, SIR Branch 8
The photo below is a ZOOM screen shot of the 24 BEC visible attendees at the May 11 meeting. Another member was present by phone for a total of 25.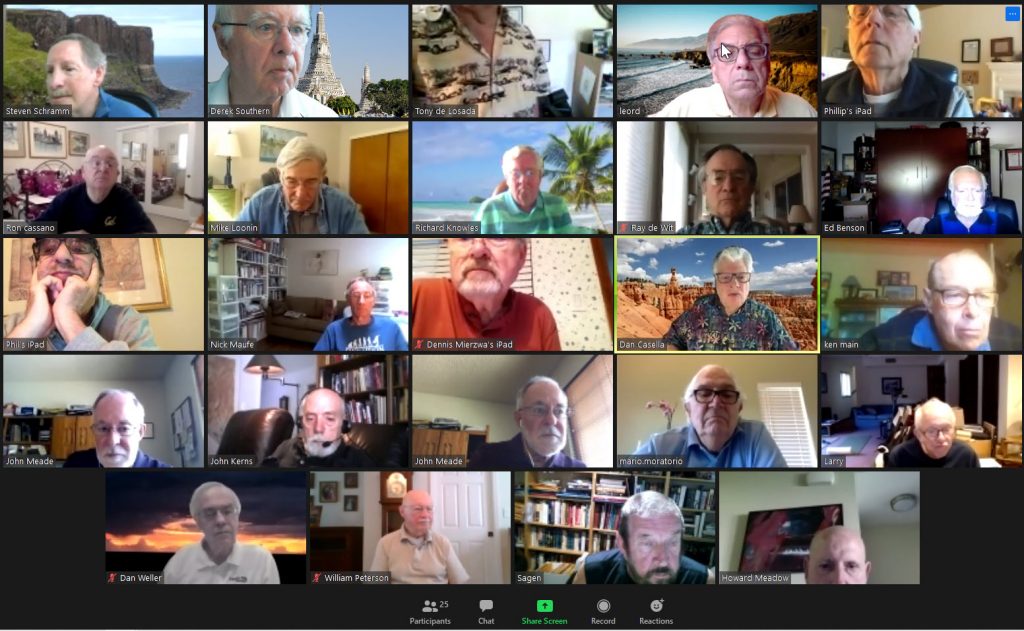 Beware of a Scam Covid 19 Call like this.

'Good morning, According to our system, you are likely to have been in close proximity to someone who has tested positive for COVID-19. This means that you now need to self-isolate for 7 days and take a COVID-19 test.'
'OK. Can you tell me who that person was?'
'I'm not able to tell you that. That is confidential information.'
'Right. Um… so ….'
'But you do need to be tested within the next 72 hours. So can I just get the best mailing address so that we can send a kit to you?'
'Ok (gives address)'
'Thank you – and I just need to take a payment card so that we can finalize this and send the kit to you.'
'Sorry – a payment card? I thought this was all free?'
'No – I'm afraid not. There is a one-off fee of $50 for the kit and test results. Could you read off the long card number for me, please, when you're ready.'
'No – that's not right.'
'I'm afraid it is. Can you give me the card number please – this is very important, and there are penalties for not complying.'
DO NOT GIVE  ANY CREDIT CARD  INFORMATION TO SUCH A CALL
CLICK HERE to view an EXCELLENT video explaining how the Coronavirus replicates, causes lung damage, and worse.
If you want to explore current statistics of the pandemic  CLICK HERE 
Join us in Branch 8 and Make Friends for Life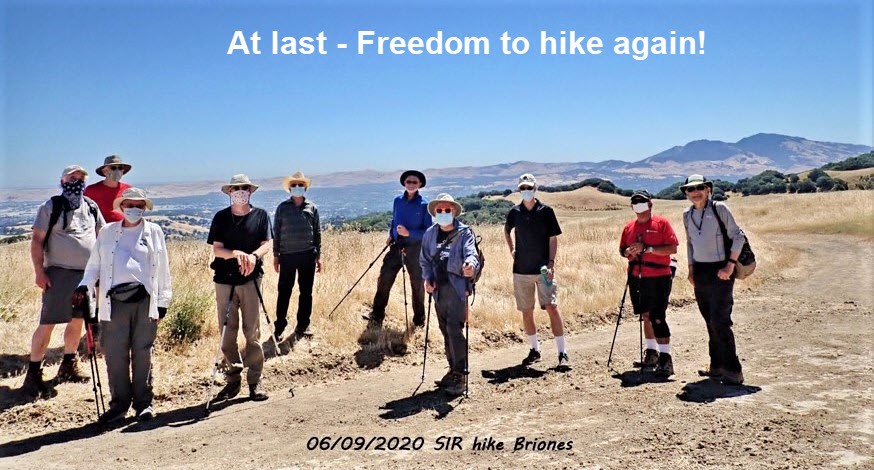 Once again we are enjoying  a 'stroll' in the foothills,
but social distancing and masks are still important!

Protect yourself and your computer from online thieves:
CLICK HERE to know how to avoid being phished
CLICK HERE for the Seniors Guide to Online Safety

CLICK HERE  for Tips for Strong Secure Passwords