BRANCH 8 MEMBERSHIP MEETING WE'RE GOING ZOOMING!
Would you like an opportunity to actually "see" your SIR friends?
Our next membership meeting is scheduled for Monday, July 13. We will meet virtually via Zoom. Our session will begin at 10:30 am, and it will include an opportunity to socialize, a little Branch 8 news and information, and a special presentation by our own, Dan Smith.
Dan will speak about the "Sinking of the Stellar Daisy", a large cargo carrier that sank in the South Atlantic Ocean.  Dan is a retired Chief Naval Architect for Bruce S. Rosenblatt & Associates LLC. He worked in the Marine field for over 50 years, and has degrees from Virginia Tech and MIT.
Please add this meeting to your calendar, and watch your emails and the Branch 8 website for more information.
See you on July 13 at 10:30 am on Zoom!
JUNE 10, 2020

Our shelter-in-place is evolving slowly into our effort to re-open. Gradually, we are seeing businesses, restaurants, services, and community activities become available to us. The challenge before us is to ensure that this re-opening is conducted in a smart and safe manner that will maintain the good health of our loved ones and ourselves.
Your SIR branch is also reopening gradually with strong consideration of the health and safety of our members and guests. The Branch Executive Committee (BEC) met again (via Zoom) on Monday, June 8. With knowledge of changing public health regulations, we made several decisions regarding our future meetings and activities.
We do not anticipate in-person gatherings of moderate size or larger in the foreseeable future. As a result, we are focused on cautiously restarting some outdoor SIR activities while maintaining social distance and observing health precautions. Several Activity Chairmen have developed thoughtful plans, and received approval to restart their activities with special conditions required of our members.
Last month, all golf groups, hiking, and the Heads Up Walkers were approved to resume their activities. On June 8, the BEC approved the restart of Pickleball, a mini Book Exchange, and a Car Enthusiast rally event called the Poker Run. A new Genealogy activity was also approved as we now have more time to learn about our heritage.
Those activities will be held with conditions such as no carpooling to events, wearing masks, using sanitizers, and maintaining distance when socializing at the conclusion of the event. These health measures must be enforced. For example, please note that if members carpool to an activity, they will not be allowed to participate in the activity on that day.
Some indoor activities are beginning via Zoom. In addition, we are organizing a branch-wide Zoom meeting for Monday, July 13. More details about the agenda, speaker, Zoom access, and other arrangements will be coming soon. Watch for the email announcements, and check out the Branch 8 website.
The time is coming when we will more fully engage in our luncheons, activities, and the social interaction that makes SIR Branch 8 so special.
Let's stay apart to stay together
Steve Schramm
Big Sir, SIR Branch 8
The photo below is a ZOOM screen shot of the 24 BEC visible attendees at the May 11 meeting. Another member was present by phone for a total of 25.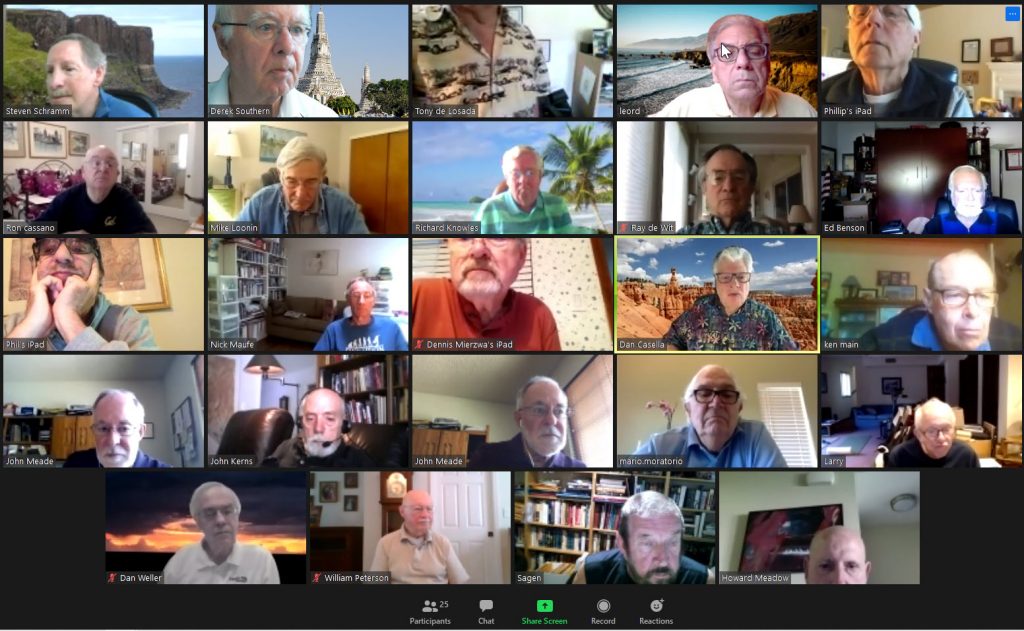 CLICK HERE to view an EXCELLENT video explaining how the Coronavirus replicates, causes lung damage, and worse.
If you want to explore current statistics of the pandemic  CLICK HERE 
Science explains why washing your hands with soap and water is the recommended way to avoid getting sick and spreading germs.
Soap and water is BETTER than using a hand sanitiser!
To read the article  CLICK HERE.
CLICK HERE to view good advice titled 
Does The Type Of Soap Or Hand Sanitizer You Use
Matter For Coronavirus?  
Read an interactive awareness guide of the coronavirus and COVIR-19
in an online Issu booklet. Click HERE to read it.
(Hint: use the arrows on the right and left side to move between pages)
Join us in Branch 8 and Make Friends for Life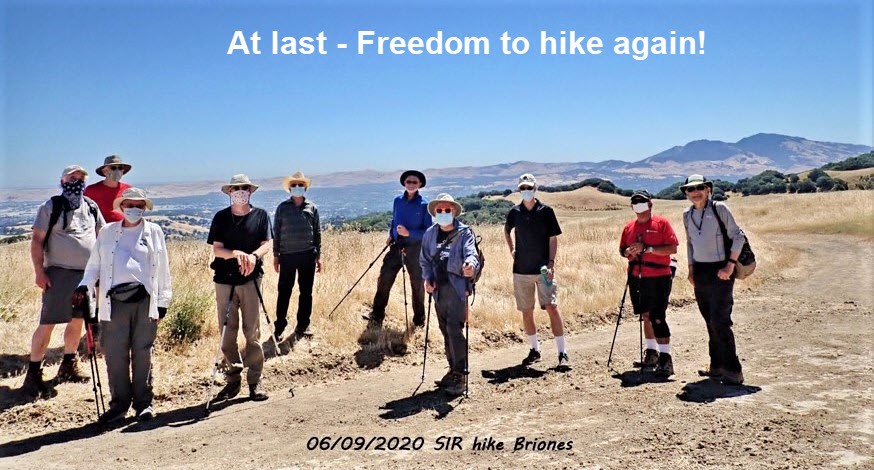 Once again we are enjoying  a 'stroll' in the foothills,
but social distancing and masks are still important!

Protect yourself and your computer from online thieves:
CLICK HERE to know how to avoid being phished
CLICK HERE for the Seniors Guide to Online Safety

CLICK HERE  for Tips for Strong Secure Passwords