Safe Restart of SIR Activities – Your Action Required
We are moving forward with the restart of more SIR activities.  In accordance with public health regulations, several indoor activities are creating plans to safely restart in meeting rooms, restaurants, and member homes.
These restarts can only happen if our members have confidence that they will be healthy and safe in these indoor environments.  Most of you have already been fully vaccinated for COVID-19.  To build our confidence in a safe environment for activities, we are asking that all Branch 8 members complete and sign a form that certifies that they have been fully vaccinated.  Spouses, partners, significant others, and guests who attend our activities will also have to complete and sign this form.
Separately, the SIR organization is losing the liability insurance coverage for COVID-19 disease.  Other insurance carriers are also declining to provide similar coverage.  This change is effective May 1, 2021.  As a result, we must ask that all members sign a SIR Event Waiver and Release of Liability for Exposure to COVID-19.  
Both of these items require your signature.  For your convenience, the two items have been combined into one form that must be signed and returned by Friday, May 21.  Next week, you will receive a mailing to your home that includes this form and a self-addressed stamped envelope.  Please complete and promptly return the form in this envelope as it is required for your ongoing participation in all SIR activities including our in-person luncheons that we hope to restart later this year.
These steps are necessary for the healthy and safe restart of our activities.  Please watch for this mailing to your home.  Your cooperation is greatly appreciated.
Join Us in Branch 8 


and Make Friends for Life
To join us, or ask any questions  

CLICK HERE
To see our Branch Video  CLICK HERE
To read a copy of our latest Newsletter CLICK HERE
At our May 10 Zoom lunch meeting, Brian Applegarth of California Cannabis Tourism Association will inform us about the history, products, and regulations surrounding cannabis and hemp use in our state. His specialty is the tourism aspect of cannabis as people consider cannabis products for both medical and recreational use.
Dr. Chris Farnitano was our speaker at our branch 8 Zoom meeting on April 12. He  discussed the latest updates on vaccinations, reopenings, and related health matters relating to Contra Costa County.
A video recording of his presentation is available on YouTube
by CLICKING HERE.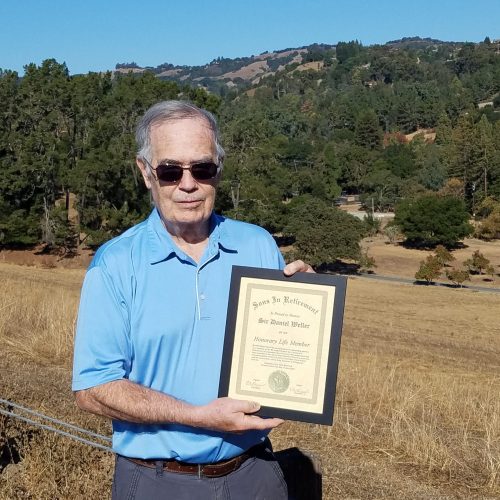 Sir Dan Weller has been awarded an Honorary Life Membership (HLM). This is the highest award a Branch can make and it recognizes  Sir Dan's dedication and hard work for many years.
Congratulations to Dan.