CLICK HERE to view a 5 minute video discussing Coronavirus
 plus sensible advice on minimising your risk of contracting it or other viruses.


SIR Apparel Store is Operating
… and of course, as with all important events relying on timing, the shipment was delayed because of the President's Day Holiday. All orders can be picked up at our March Luncheon at the SIR Apparel Lobby table. You can also place your Spring and Summer SIR Branch 8 logo apparel orders at the same time.
Any questions? Please contact Tony De Losada
925-945-1730 
Cell
510-566-2661
tonydelosada@gmail.com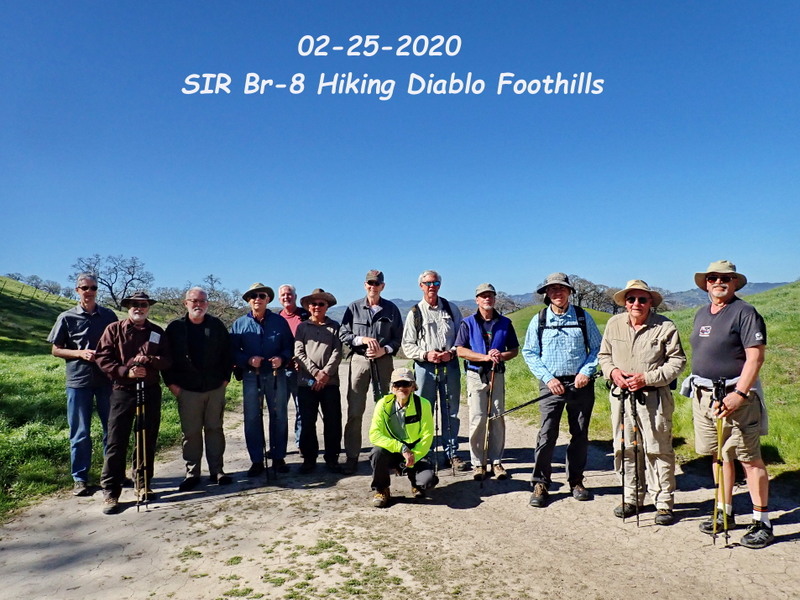 Active Hikers! Great weather for a 'stroll' in the foothills!

Join us in Branch 8 and Make Friends for Life
Napa Salad
Corned Beef & Cabbage
Key Lime Pie
Coffee/Ice Tea


 Guy Bjerke, Director of Community Reuse Planning,
City of Concord, will bring us up to date
with the redevelopment of the Concord Naval Weapons site.
Protect yourself and your computer from online thieves:
Here are two useful pieces of advice from the non-profit organization, ConnectSafely.org
CLICK HERE for the Seniors Guide to Online Safety

CLICK HERE for Tips for Strong Secure Passwords
Audio Visual Coordinator Role description
Maintain Branch 8 laptop for use at monthly luncheons, Branch Executive Committee Meetings (BEC), and other Branch 8 events.
Maintain and update laptop software to include Windows 10, MS Office, a Malware Program, and other important software applications.
Backup the PC and be prepared to restore the entire PC or selected folders and files.
Ensure that any subscription software (i.e. MS Office 365) is renewed in a timely manner.
Must arrive at the Concord Hilton at least 45 minutes prior to the luncheon meeting for setup of the laptop and testing of presentations by speakers and others. Ensure that all of the projectors display the video clearly.
Update and display slide show on all 3 screens prior to the monthly luncheons.
Coordinate all visual presentations of luncheon speakers.

Receive slide presentation and/or video clips from presenters via email or thumb drives.
Load and test presentations on branch laptop at least two days prior to the luncheon. This preview will allow time to resolve problems with the video and/or the audio of the presentations.
Coordinate sound of presentations with Branch 8 audio crew.

Requires basic computer skills including MS Word, Excel, Powerpoint, emails, file management, etc.