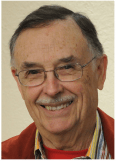 Chairman: 254-8338
rphelon@juno.com
The theme for May was Domestic Animal photography. Although that usually means dogs and cats, there are other domesticated animals that qualify, as we learned. Actually, a few animal photos were not really very domesticated at all!
Coming in June, the subject will be Tripod Use. Choose a photo subject that requires you to use a tripod and bring us your results for viewing. As usual, Dave has already provided us with some direction for our efforts.
Everyone is encouraged to bring up to 12 jpg photos to share on a "clean" flash drive. Please be prepared to discuss how you created your photos, including meta data info. If you want a specific order of presentation, renaming your photos 01, 02, 03, etc., should do the trick. Be sure to use only the numbers, nothing else in the file name.
Our host for the June 16, meeting, Robin Lamont, will be sending out reminders & directions and looking for attendance confirmations a week or so before the gathering. Robin reports space limitations, so it will be "first come, first served" for seating!
———————————————————————————————
The Digital Photography Group meetings begin at 10:00 AM on the third Friday of the month. Coffee, tea and snacks are provided, for which we ask a $2 donation. All levels of photographer are welcome, from the point and shooters to sophisticated mirrorless & DSLR users. We even entertain phone photos!
Each Theme runs for 2 meetings to give each of us more opportunity to get the shots we want. So each meeting we will have a new Theme as well as bringing photos from the Theme for the previous month. You can divide your 12 photos between the 2 Themes however you like – i.e., you don't have to split the 12 photos 50-50. Another benefit of including shots using the previous month's Theme is that you can take photos using ideas or techniques learned from others the previous month.
Your photo limit is 12 shots on a thumb drive, as it has been for some time now. Also, there is no change in our flexibility – you can bring photos you think the members would enjoy or learn from, whether they support the current Themes or not.
All are encouraged to discuss your own and other photos – what you liked, what you didn't like. The goal is to help each other improve their photography.
Click here for the list of Theme assignments for 2017.
Bill Phelon, Chair Dave Davis, Vice Chair
rpheon@juno.com dav.davis@comcast.net
254-8338 838-1753
5/27/2017 updated DLS