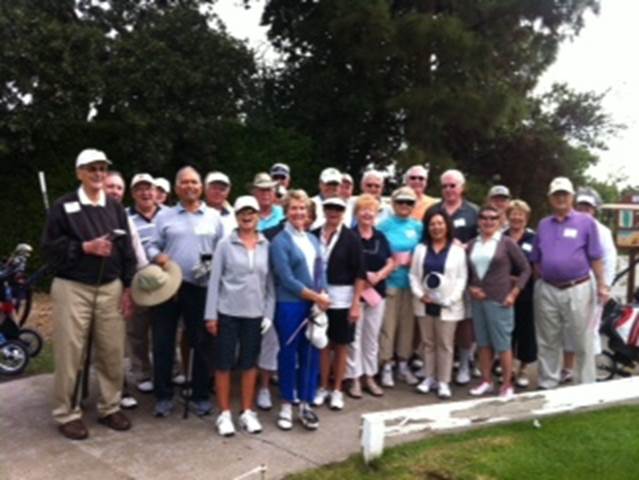 Chairman: Paul Derby
SIR COUPLES GOLF ACTIVITY REPORT
MAY 9, 2019
Have you ever missed an event and felt lots of regret?
We missed yesterday when the Couples Golf group met!
You realize how special a group of people can really be,
When you know that being with them is just fun, you see!
The weather was cloudy, breezy and even a little cool;
However 8 SIR COUPLES must truly be from the old school.
Players were Lockwara, Hopkins, Price, Steichen, and Olson, too,
Plus Maciak/Gawura, Moratorio and Hersh-Marshals true!
"Lowest putts for guys and gals was the name of the game,
Runner ups were S.Price, M.Lockwara, L.Hopkins but no fame;
For Winners C. Hopkins & R. Lockwara the prizes did claim!
However all eight couples played a great game with no shame!
One duffer, the marshal himself, Paul Hersch had a 0 putt today,
He said out loud that it was the putt that truly made his day!
As usual The Greenery Lunch was enjoyed by all,
That makes it worthwhile to keep hitting that little round ball.
The second Thursday, June 13 will be the next Couples golf date,
And we hope you all will join in the fun and not be late!!
(If like us, you will miss the month of June – do not pout;
For on July 11, we can all meet, play, eat ,laugh and shout!)
Sir Couples Golf is open to anyone who would like to join in a 9-hole 2nd Thursday group. For more information, you may contact chairperson Paul Derby-925-283-1784 at derby.paul@comcast.net; or Asst. Chair – Paul Hersch -925-933-7403 at hershibar@astound.net. Truly we have as much fun off of the golf course as we do playing golf.
Couples Golf Activity Description
SIR Couples Golf is open to all SIR members and their guests. Any 'two some' may be considered a "couple" and we encourage all interested members to contact our chairperson, and/or visit our SIR Couples Golf webpage: https://www.sirbr8.com/couples-golf/. It is not necessary to have a handicap to play with our group.
Our games are played on the 2nd Thursday of each month usually at Diablo Hills Golf Course at 10:00AM. Unless otherwise noted on the website or signup page, the usual golf format is individual play; however, we often vary the format with games such as Scramble, Best Ball, 3 Club, etc. The game format is determined by the monthly Marshal, which rotate and are assigned at the beginning of the year.
Our objective is to have fun, meet with old and new friends and enjoy a meal together usually at the Greenery Restaurant at the Diablo Hills Golf Course. You may contact any participating member if you have questions or concerns or need additional information. We look forward to welcoming new members, and no matter what the score– we surely do have fun!! A nicer group of golfers could not be found!!
Chair­man: Paul Derby
Tel: 925-324‑8283 Email: derby.paul@comcast.net
Asst.Chair­man: Paul Hersch
Tel: 925-933‑7403 Email: poppy3642@gmail.com
CEO: Margaret Batesole
Tel: 925-360‑4932 Email: mkbatesole@aol.com
To join our couples group please send your names and email address to Chairman Paul Derby's "Email address above" You will receive all announcements and sign up information by email.
updated 5/14/2019 DLS