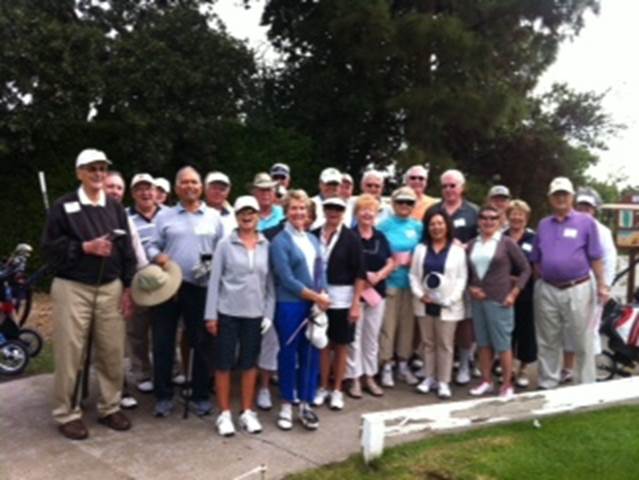 Chairman: Paul Derby
SIR COUPLES GOLF ACTIVITY REPORT
October 10, 2019
Happy Autumn has arrived, and it is nice to have a 'chill' in the mornings! Sir Couples Golf celebrated their annual fall gathering on September 27 at Boundary Oak with a delicious dinner and fun activities. Once again, we praise Paul Derby and Paul Hersch (and their able assistants Sue and Millie) for being our chairpersons for another successful year!
Three couples, Bob and Daphne Olson, Bob and Sandy Price and Gordon and Margaret Batesole were pleased to join Bill Koski at the Fox Tail Tournament in Rohnert Park. As usual the SIR GOLF COMMUNITY welcomed us as 'couples golfers' and also the spouses of the other participants. Lovely accommodations, good food and excellent fellowship were enjoyed by all – plus mighty nice prizes, too. Thanks to Bill and Sue Koski and Jim and Teri Erickson!
Our October 10 Couples Golf at Diablo Hills was again a delightful day of golf and fellowship. We may have had our lowest attendance ever, but the quality certainly outweighed the quantity. Marshals Dean and Marilyn Steichen coached us in "BINGO, BANGO, BONGO' golf. (Once again we can give tribute in memory to Leo Barrella, for he first introduced me to this game!) Competing today were Judy Barrella, Mike Anderson, Paul and Millie Hersch, Gordon and Margaret Batesole and Marshals Dean and Marilyn Steichen. Winners of the generous prizes were Judy Barrella and Paul Hersch.
We are sending good wishes to Mardi Lockwara who has recently undergone surgery for her femur injury due to a fall. Mardi and Roger, as regulars, you were truly missed, and we hope you will join us in November for lunch, if not for golf. We are sending get well hugs and wishes to you for a speedy recovery! We missed all of our regulars and hope to see you in November!!
Once again the fellowship makes up for any errors in golf, and we remind everyone that any 'two somes' are welcome to play with our Sir Couples Golf group. If you have any questions, please contact Chairperson Paul Derby at derby.paul@comcast.net or Paul Hersch at poppy3542@gmail.com. You may also go to the SIR website: www.sirbr8.com and select Couples Golf. We look forward to seeing you all on Thursday, November 14, for fun and fellowship as well as a great game of golf! The November Marshals, the Hersch's, will be sending reminder information before the date!
Couples Golf Activity Description
SIR Couples Golf is open to all SIR members and their guests. Any 'two some' may be considered a "couple" and we encourage all interested members to contact our chairperson, and/or visit our SIR Couples Golf webpage: https://www.sirbr8.com/couples-golf/. It is not necessary to have a handicap to play with our group.
Our games are played on the 2nd Thursday of each month usually at Diablo Hills Golf Course at 10:00AM. Unless otherwise noted on the website or signup page, the usual golf format is individual play; however, we often vary the format with games such as Scramble, Best Ball, 3 Club, etc. The game format is determined by the monthly Marshal, which rotate and are assigned at the beginning of the year.
Our objective is to have fun, meet with old and new friends and enjoy a meal together usually at the Greenery Restaurant at the Diablo Hills Golf Course. You may contact any participating member if you have questions or concerns or need additional information. We look forward to welcoming new members, and no matter what the score– we surely do have fun!! A nicer group of golfers could not be found!!
Chair­man: Paul Derby
Tel: 925-324‑8283 Email: derby.paul@comcast.net
Asst.Chair­man: Paul Hersch
Tel: 925-933‑7403 Email: poppy3642@gmail.com
CEO: Margaret Batesole
Tel: 925-360‑4932 Email: mkbatesole@aol.com
To join our couples group please send your names and email address to Chairman Paul Derby's "Email address above" You will receive all announcements and sign up information by email.
updated 11/4/2019 DLS