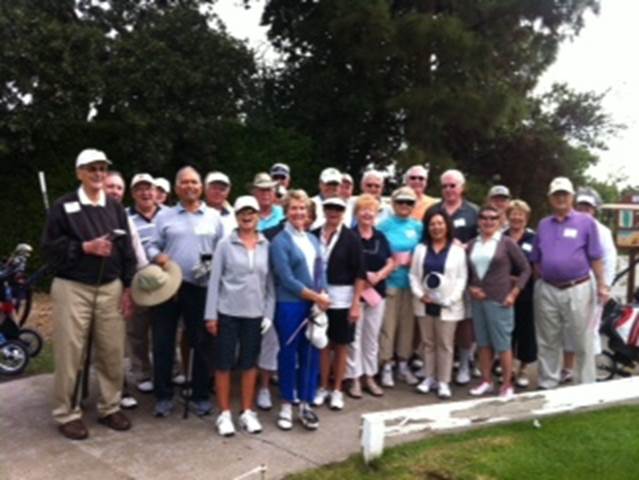 Chairman: Paul Derby
Couples Golf Activity Description
September 13, 2017
Ten eager couples met with Marshals Larry and Holley Yarberry on Thursday morning for Sir Couples Golf. Included in the play were Steichen's, Lockwara's, Collins', Olson's, Barrella's, Ron Maciak & Linda Gawura, Paul Hersch, Moratorio's, Yarberry's and the Batesole's.
The game of the day was simple; we played a game called "Golf". The marshals explained that today's prizes would be the old fashioned "draw from the hat." Therefore, there was no need to count pars or to play every other shot, etc. Among the highlights today were 21 pars with a couple of players scoring birdies. Of course, there was one threesome, and all three made par on the very same hole (Judy, Leo and Paul H). The 'drawn from the hat' prizes were won by Margaret Batesole (a sleeve of pink balls), Dean Steichen (a sleeve of balls), Leo Barrella and Konie Collins who won golf caps.
All 19 golfers (Millie Hersch was absent) met at Rocco's for a most enjoyable lunch. Next month the marshals will decide where to meet for lunch. In November, we are somewhat assured that the GREENERY at Diablo Hills will be open again for our business. We will keep you all updated.
Next month, Thursday, Oct. 11 marshals will be Bill and Konie Collins. Even though several members will be out of town for the SIR Gold Country event, the date and time will still be available. Please contact Marshals Bill and Konie at collinsbill606@gmail.com Please also sign up on the SIR website which is listed below.
UPCOMING EVENTS
Sir Couples Golf Annual Year End Celebration Oct. 27, 2017 at Boundary Oak
This is a fun time to 'meet and greet' and 'wine and dine' with SIR friends.
You may invite guests to attend, but reservations must be made by 10/20/17. Your checks should be sent to SUE DERBY, SCG (Sir Couples Golf) 20 Warwick Ct. Lafayette, CA 94549
Price: $32 per person includes dinner, red or white wine, coffee, dessert and tax & gratuity.
We look forward to seeing all of you that evening!
Sir Couples Golf is open to anyone who would like to join in a 9-hole 2nd Thursday group. For more information, you may contact chairperson Paul Derby-925-283-1784 at derby.paul@comcast.net; or Asst. Chair – Paul Hersch –925-933-7403 at hershibar@astound.net. Truly we have as much fun off of the golf course as we do playing golf.
SIR Couples Golf is open to all SIR members and their guests. Any 'two some' may be considered a "couple" and we encourage all interested members to contact our chairperson, and/or visit our SIR Couples Golf webpage: https://www.sirbr8.com/couples-golf/. It is not necessary to have a handicap to play with our group.
Our games are played on the 2nd Thursday of each month at Diablo Hills Golf Course at 9:30AM. Unless otherwise noted on the website or signup page, the usual golf format is individual play; however, we often vary the format with games such as Scramble, Best Ball, 3 Club, etc. The game format is determined by the monthly Marshal, which rotate and are assigned at the beginning of the year.
Our objective is to have fun, meet with old and new friends and enjoy the group lunch at the Greenery Restaurant at the Diablo Hills Golf Course. You may contact any participating member if you have questions or concerns or need additional information. We look forward to welcoming new members, and no matter what the score– we surely do have fun!! A nicer group of golfers could not be found!!
Chair­man: Paul Derby
Tel: 925-324‑8283 Email: derby.paul@comcast.net