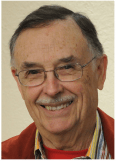 Branch 8 Coordinator: Bill Phelon
rphelon@juno.com, 254-8338
Chairman: Neil Schmidt (np_schmidt@pacbell.net) Branch 116

The next SIR Area 16 Computer & Technology (CAT) Group Zoom meeting will be Thursday, October 15th starting at 9:30 (The "Doors" will open at 9:15 AM so come a little early to chat with friends).
The Zoom meeting web link information is available from Bill Phelon.
This month the Computer & Technology group is going to have the second of a 2-part CAT series on "Television Entertainment". Last month we learned from Phil Goff about "Broadcast vs. Internet TV" and next Thursday Neil Schmidt is going to be discussing smart TV's, streaming devices, streaming sites and how to find good programming. Members will also be asked to contribute their favorite sites and programs.
There is a tremendous amount of television programming available beyond your standard cable or satellite service. Numerous interesting documentaries, Academy Award movies, classic movies, TV series, etc. are available via Internet streaming. In addition, some of these services are free.
_______________________________________________
Checkout the CAT website at https://sirinc2.org/a16cat/ for a list of past presentations.
We look forward to seeing you via Zoom Thursday, October 17, 2019 about 9:15 AM. Sirs from all branches and their guests, including spouses, are welcome and invited to attend.
Bill Phelon, rphelon@juno.com, 254-8338
Updated 10/9/2020 by DLS